It wouldn't be incorrect to say that Akshay Kumar's periodic videos on various social issues plaguing the country offer a pragmatic approach to the scenario.
Continuing the practice, the superstar took to social media some time ago to address a crucial problem of lack of toilets in the country. Through a video he revealed that while shooting for his upcoming film, Toilet: Ek Prem Katha, he came across mind boggling statistics about the usage of toilets, which according to him, needs urgent attention.
He begins by stating that he doesn't mind if people think that he is promoting his upcoming venture through the clip because a subject like this should be publicised by all means.
Akshay says, in India, half of the population does not have toilets at home. He threw light on the plight of women who have to defecate in the open since due to lack of toilets.
He further explained that since 'auratein ghar ki izzat hoti hain' they can't attend to nature's call in broad daylight and have to wait the entire day and are only able to venture out post sunset or before sunrise.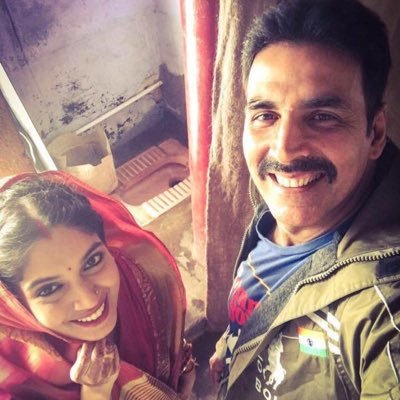 Image Source: twitter/ToiletTheFilm
A woman's bad health has adverse affects on children and family as a whole. Pregnant women pass diseases on to the developing foetus. Around 1000 children die every day in India due to ill health caused by unhygienic conditions.
Furthermore, Akshay says that the government has built 10 lakh toilets but most use the place for cattle and storage among other things. "Why do we wait for the government to do things for us?" he questions.
The video concludes with the superstar urging Indian men to apologise to their women for making them go through the turmoil and begin the construction of toilets pronto.

Thumbnail Image Source: backwallpapers