Seema Sajdeh Drops 'Khan' From Nameplate Post Divorce With Sohail Khan, Makes Son Nivaan Upset, Fashion Designer Says, 'I Don't Want Last Names'
In the first episode of Fabulous Lives of Bollywood Wives Seema Khan dropped the surname 'Khan' from her house's nameplate which made her son upset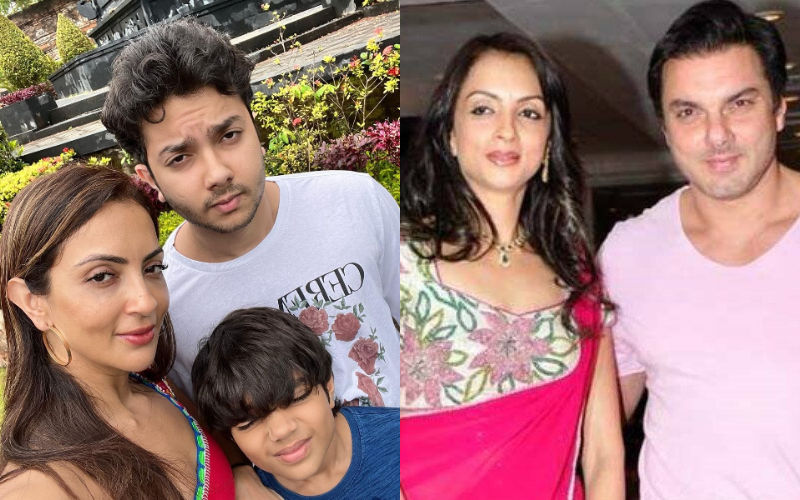 Fabulous Lives of Bollywood Wives is one such drama that revolves around the life of the wives of ace Bollywood actors. The show features the life of Maheep Kapoor, Seema Sajdeh, Bhavna Pandey, and Neelam Kothari and gives us an insight into their lives. Now, the glamorous show is back with the second season which has already premiered on September 2, 2022, on Netflix, produced by Karan Johar.
In the first episode of the star-studded show, Fabulous Lives of Bollywood Wives, fashion designer, and ex-wife of Sohail Khan, Seema Sajdeh was seen replacing the nameplate that read 'Khan' from the main gate of her house with one that read 'Seema, Nirvaan, Yohaan'.
However, this made her son Nirvaan upset and he objected to Seema's decision. He said, "We're a family of four, all Khans. But just removing the surname, putting three of our names, you've basically indirectly removed just one person's name. It's a little unnecessary. It doesn't need to be done. What's the difference? At the end of the day, you're still Khan. We're still Khan."
Meanwhile, Seema defended her decision and responded to her son, and mentioned that she wouldn't be 'Khan' for long. As her son had suggested keeping the nameplate as 'Khan and Sajdeh'. She said, "How can I do that, Nirvaan? That's why there is no last name involved, it's the three of us. It doesn't discount the fact that we are always going to be a family but at the same time Nirvaan, I am also at a point in my life where I feel that I have to put one foot ahead."
The fashion designer further explained her dilemma the fact that her sons, Yohan and Nirvaan would not have her last name. She quoted, "I am neither here nor there at the moment. You and Yohan will have that last name which will not be my last name. It's something that I'm still trying to wrap my head around, which is why I don't want last names."
Sajdeh is also seen discussing her broken marriage, divorce and with her co-star and friend Maheep Kapoor. She expressed her emotions, "When I got married, I thought it was forever. That's how we're brought up, D-word is like a taboo. What's more important is that you have two happy parents. Sohail is always going to be the father of those children. And I am the mother and that bond no one can break. But sometimes I feel like, my biggest regret is that have I robbed them of this family. Sometimes there's a bit of guilt."
For the unversed, Seema Sajdeh and Sohail Khan had eloped and tied the knot in 1998. The duo decided to part ways after 24 years and filed for divorce in Mumbai family court on May 13, 2022.