Shabana Azmi Defends Husband Javed Akhtar's Dig At Shashi Tharoor; Actress Asks Trolls To 'Just Chill', Says 'Remark Was In Pure Jest'
Shabana Azmi comes out in support of her husband Javed Akhtar and defends him from trolls over his comment about Shashi Tharoor. Here's what the actress said!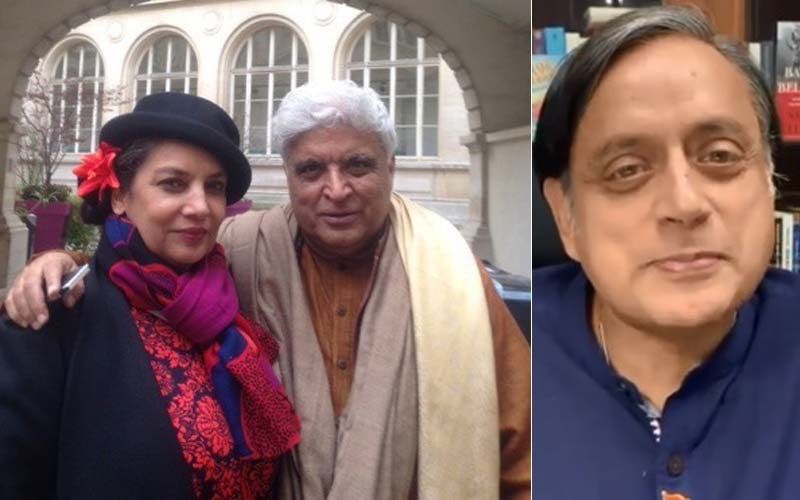 Veteran actress Shabana Azmi has come out in the support of her husband Javed Akhtar after some users got offended over his remark on politician Shashi Tharoor. For the uninitiated, a few days ago, Shashi had shared a video of himself singing Kishore Kumar's iconic song 'Ek Ajnabee Haseena Se' at an event in his usual demeanour. While reacting to his post, Javed poked fun at his singing and posted a humourous comment. Shabana Azmi has now asked trolls to just relax and said that Javed's remark was in "pure jest."
Resharing Shashi's video on her Twitter, Shabana tweeted, "Shashi! That's lovely." In a follow-up post, she wrote, "And all those trolls just chill. Shashi Tharoor is a good friend and Javed's remark was in pure jest!"
Earlier, while sharing the video Shashi had written, "After the cultural programme by Doordarshan Srinagar for the Parliamentary Standing Committee on Information Technology, I was persuaded to sing for the Members. Unrehearsed and amateur but do enjoy!." Javed, replying to the tweet, said, "Wow! We have almost a similar song in Hindi too."
Check out Shabana Azmi's post below:
And all those trolls just chill . Shashi Tharoor is a good friend and Javed's remark was in pure jest ! https://t.co/NsYKOPyM1a

— Azmi Shabana (@AzmiShabana) September 7, 2021
After the cultural programme by Doordarshan Srinagar for the Parliamentary Standing Committee on Information Technology, I was persuaded to sing for the Members. Unrehearsed and amateur but do enjoy! pic.twitter.com/QDT4dwC6or

— Shashi Tharoor (@ShashiTharoor) September 6, 2021



Last year, after a Twitter user suggested that Javed was not the recipient of the Richard Dawkins Award 2020 but only one of the nominees, the actress called it a "preposterous claim and patently untrue."

Back then, she had written, "This is patently untrue! We have an email from Richard Dawkins on 5th June offering the award and also from Robyn Blumner who heads the Centre for Inquiry, USA. I feel sad for these pathetic trolls who do not care that they will stand exposed in seconds for such a preposterous claim."
Image Source: Instagram/azmishabana18/Shashi Tharoor