It's a classic case of picking the most celebrated star and spreading untrue stories about his death.
Last night,
Shah Rukh Khan
fell prey to this disgusting trend. It all started when a French website reported about the superstar's death in a plane crash in Paris. What's worse is that these fake reports also claim that the France Civil Aviation has issued a statement condemning the death, which of course, is untrue.
The French website claimed that SRK died a few hours after his daughter Suhaana's birthday while travelling in a Gulfstream G550 Jet with his personal assistant and others. The actor was reported to be travelling for a business meeting when the plane crashed due to turbulent weather.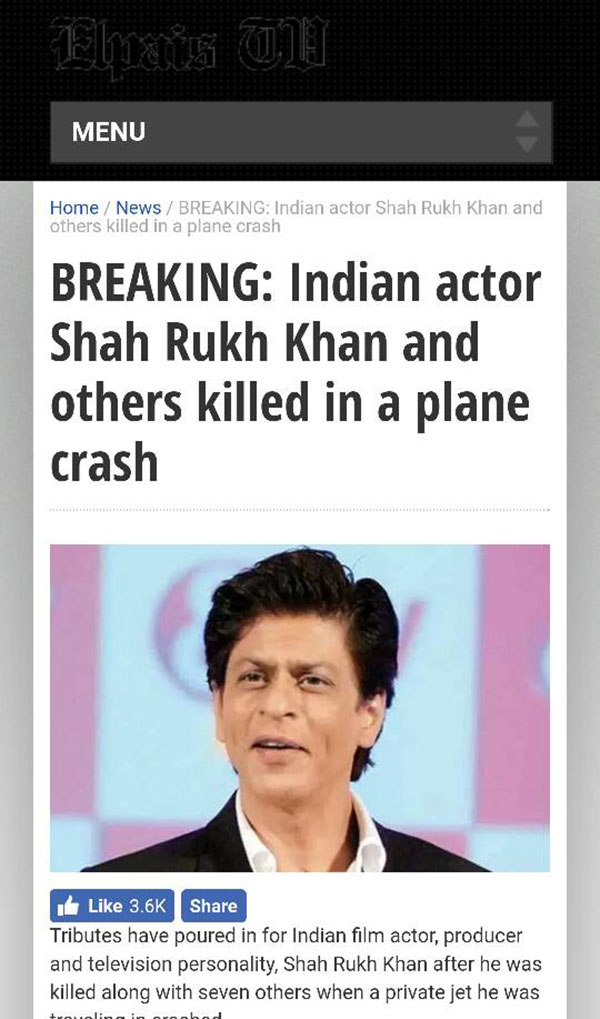 Shah Rukh Khan's Death News Published By A French Website
The website has gone to the extent of saying that credible government authorities like the France Civil Aviation has issued a statement saying several flights were turned back after the crash as they couldn't land and the authorities are investigating the matter. The French website also says that SRK's death has stunned Indians and Asians- now isn't this just disgusting?
However, it's not the first time that a Bollywood celebrity has been a victim to such death hoax. Earlier this year, death hoax of
late veteran actor Vinod Khannna also went viral
. Legendry stars like Dilip Kumar and Amitabh Bachchan have also been a victim to this foul trend.
Television industry is not untouched either. Just a few days back we reported how
Shweta Tiwari's death rumours started going viral and husband Abhinav Kohli
had to step in to stop the hoax.
Thumbnail Image Source: club443