Shah Rukh Khan Shoots For Tu Desh Mera, A Musical Tribute To Martyrs Of Pulwama Attack; Joins Amitabh Bachchan, Ranbir Kapoor, Aishwarya Rai Bachchan
Shah Rukh Khan joins Amitabh Bachchan, Aishwarya Rai Bachchan, Ranbir Kapoor and more as he shoots for a video tribute to the martyrs of Pulwama Attack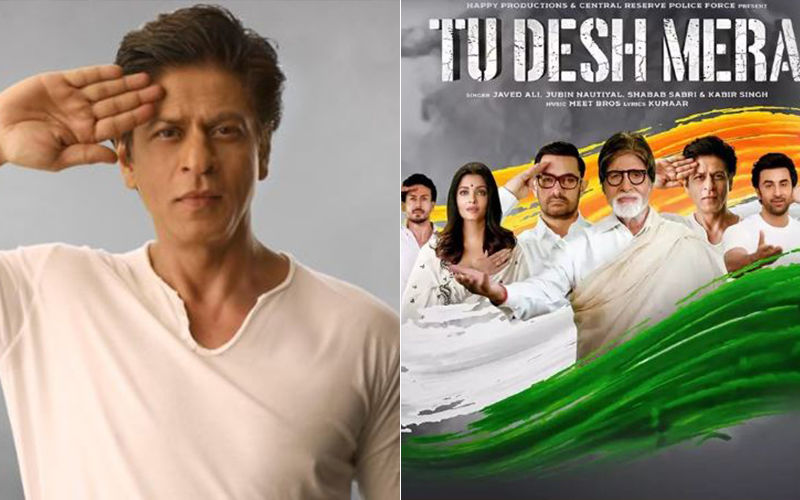 The Pulwama attack that happened in Febrauray 2019 left the entire nation shook and the disturbing chapter is still fresh in our minds. The attack claimed the lives of over 40 CRPF Jawans in a suicide bomber attack. To pay an ode to the martyrs of Pulwama, Shah Rukh Khan joins a list of actors such as Amitabh Bachchan, Ranbir Kapoor, Aishwarya Rai Bachchan, Tiger Shroff and others as he shoots for a tribute song called Tu Desh Mera.
As per a report in Times Of India, Shah Rukh Khan shot for a 4- minute long video last week for the multi starrer tribute video which is dedicated to the CRPF Jawans martyred in the Pulwama attack. The special song Tu Desh Mera has mainly been sung by Javed Ali, Jubin Nautiyal, Shahab Ali and Kabir Singh but Shah Rukh Khan and a few actors have also lent their voices to the song. The makers of the video were touched and were ful of gratitiude for SRK to join the video for the martyrs. While talking to TOI, Abhishek Mitra, MD of the Happy Productions, said "To say that we were excited by the prospect of Shah Rukh Khan joining us for the video is an understatement. He was travelling that week and was quite busy. We are grateful that he took out the time to shoot for the video. We shot Shah Rukh's part of the video at the Mehboob Studios in Mumbai after midnight."
Shah Rukh Khan was glad to pe a part of the tribute video for soldiers. The video for the tribute song has been shot at multiple locations including at CRPF camps and in Srinagar and Gulmarg. Over 150 CRPF jawans are reportedly a part of the production. While the video was earlier scheduled to be released on the CRPF Day, it was later postponed. Now, the teaser of the song will be released on Independence Day.
Image Source: Twitter/crpfindia/teamsrkfc/Happy Productions India