Bollywood actor Shahid Kapoor's wife Mira Rajput is a star in herself! All thanks to her class and sass which striked a chord with her followers on the social media platforms. Saturday afternoon, she decided to get a little chatty with her followers on the Instagram platform. And guess what netizens once again got a taste of the star wife's witty and sassy aspect of her personality. Mira during her Instagram Q & A session, Let's do this! Ask me anything! Turned out to be a real entertaining and revealing one.
When Mira was asked by one of the netizens, what is most important factor for a woman, "Which is most needed for a woman?" Mira's reply just bowled us over, in her reply she mentioned self confidence, a perfect pair of inner wear and a superb girl gang is the most needed thing by a woman. She replied, "Self Confidence. A great bra Girl Tribe" Well now that's bang on! Don't you agree with her? In the session she was also asked about expanding her family, when she replied saying, "Hum Do Hamare Do". Mira's has been supremely active on the social media platform ever since the lockdown began.
During the lockdown period Mira was seen giving a glimpse of their day-to-day routine which had kept the audience entertained.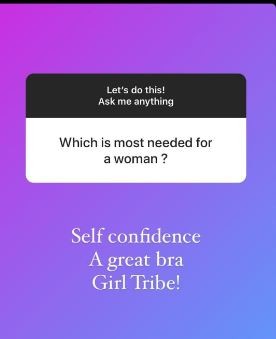 Image Source: Instagram/mira.kapoor