Shamita Shetty's Rude Behaviour With Fan Captured In Video
Fans go out of the way to click pictures with their favourite stars- sometimes actors oblige and at times, fans are not met with a pleasant experience. Shamita Shetty's fan was in for some rude behaviour, recently, and now a source close to the actress has defended her saying the actress was in acute pain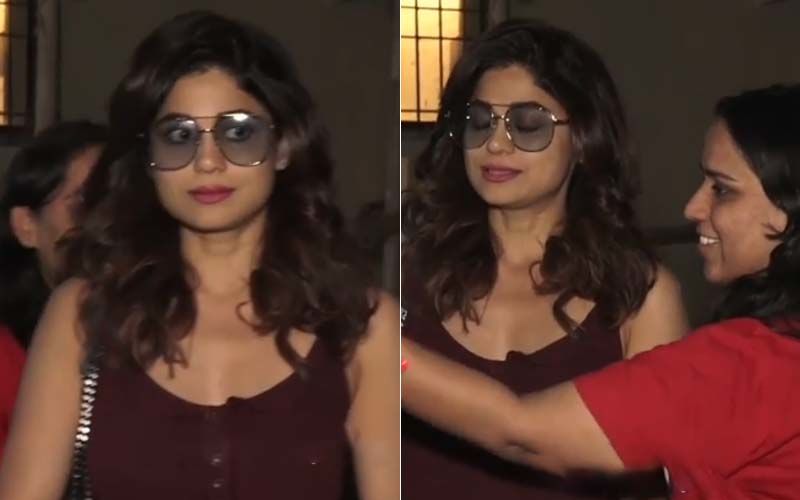 Shamita Shetty is usually the one who keeps a low key. She is always captured with a smile. But recently, we were surprised to see the actress reacting in a rude way with a fan, who was waiting for a selfie with her. A video where Shamita is seen losing her patience with a girl, who was trying to figure out a way to click the picture, went viral, a day back.

Since then, the actress has been receiving a lot of flak from netizens for her unapologetic behaviour with the girl. Check out the video below, where Shamita catches the fan's hand firmly.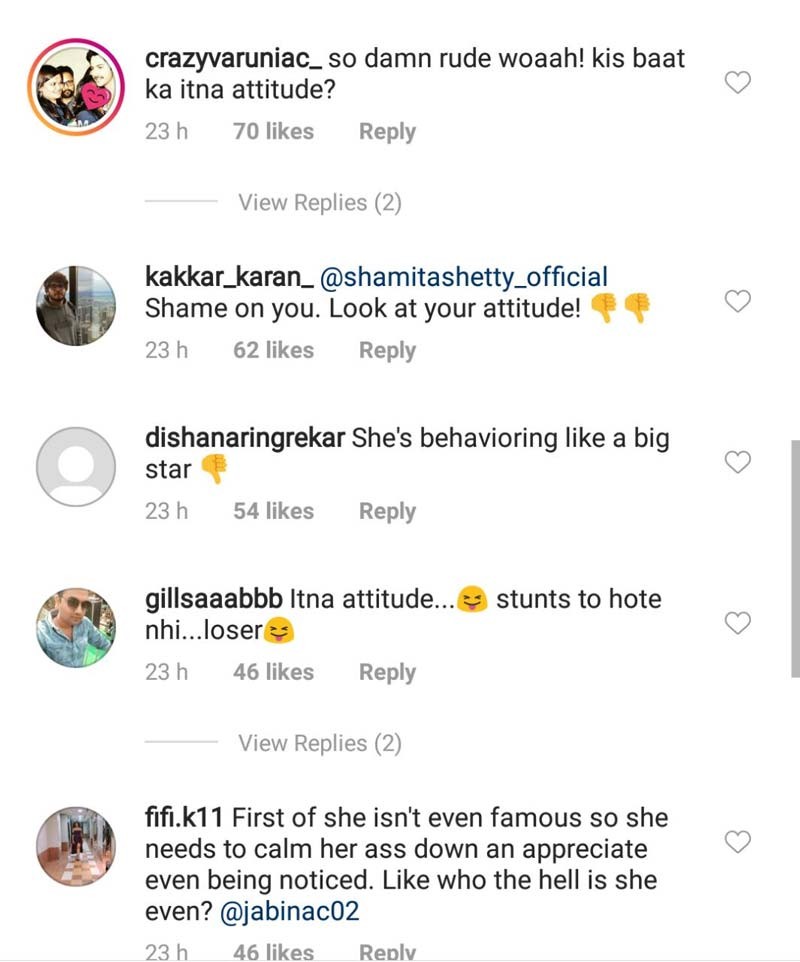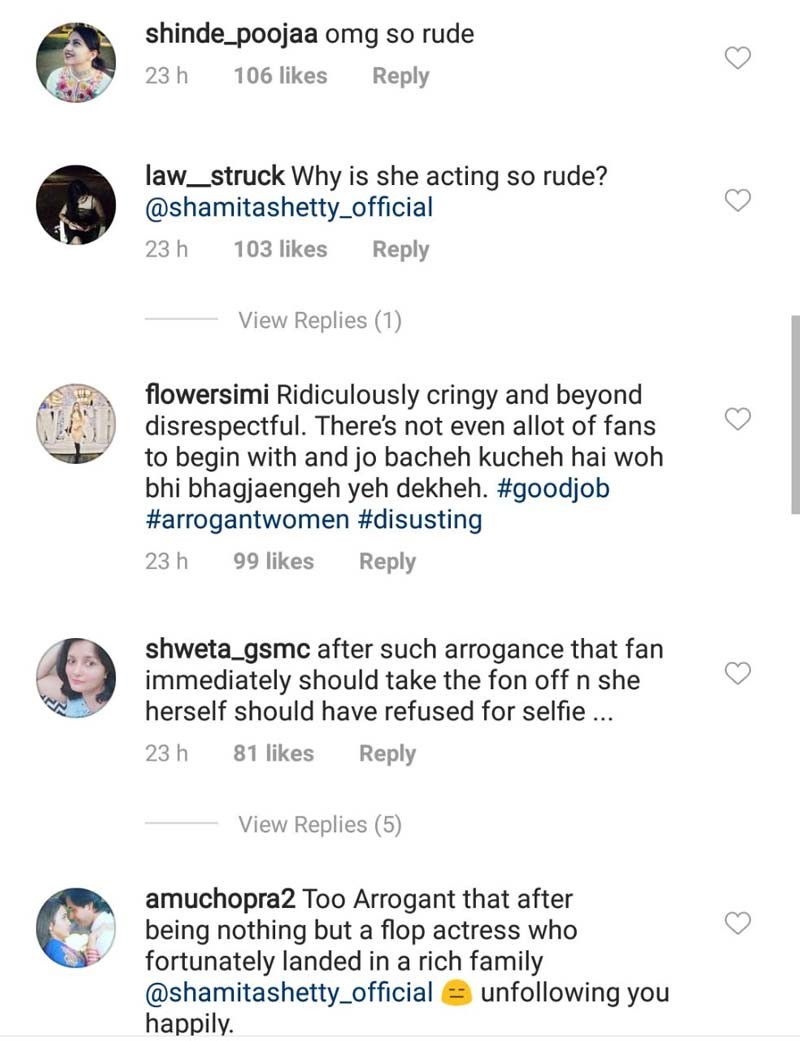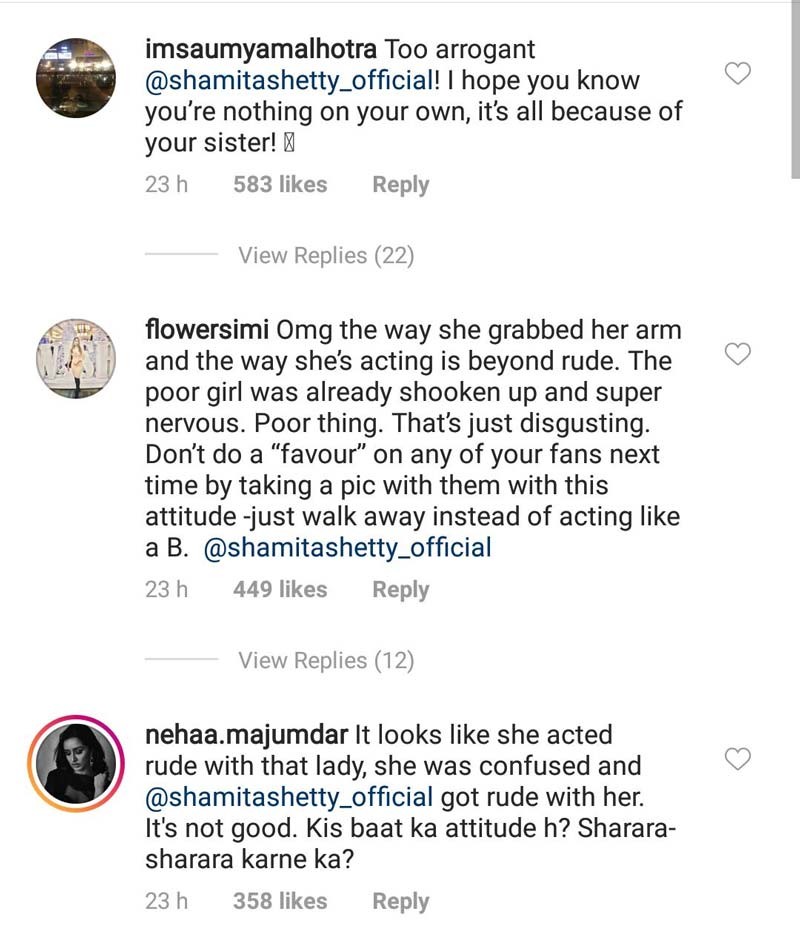 Trolls


And now, the actress has taken to social media to clarify the same. She posted some snapshots of the news headlines and captioned it, "Feel sad today...Nobody really understands the state of mind of an artist .i was rushing out of the place with an emergency to attend too, with a slip disc in my neck .. I don't wanto get into details of that but I still complied with a photo to my fans waiting there but it was taking so long that I was getting impatient...I can't walk around with a board that I'm under medical treatment for a very painful neck slip disc but try to keep a smile on my face & did take pic n helped her take the pic as she was struggling with the right lighting .Im aware as celebrities we are constantly judged especially in the world of social media where it's very easy for people to say things ..I take it in my stride but there s no need to hit below the belt..it's because I cared that I still took those photo s . I love my fans n respect the love and admiration they give me and that will always be a constant in my life !! In the normal case I wouldn't want to clarify but felt the need to this time . I'm falliable as I'm a human being and do hurt. We all have bad days.. maybe that was mine.. That doesn't make us bad people... Sending you all positivity , love and light."
A few weeks back,
Shamita was in news as she got involved in a road rage.
The actress' vehicle was rammed by another one in Thane on January 29. Later, a case was filed under sections 279, 323, 504, 506, 427 and 34 of the Indian Penal Code against the accused driver. Talking about the incident, Shamita had told Bombay Times, "I was on my way to Thane and we were at the toll plaza when a taxi rammed into my car from behind. My driver got out of the car to see the extent of the damage. It's just a normal human tendency to get out of a vehicle and assess the damage after an accident. When you are not at fault, you can end up shouting at the person who is at fault. Everyone does that. My driver did that, too, because my car was stationary when this other car rammed into it. I got off to see the extent of the damage on the bumper as well. The driver in the other car apologised and we all left from there. I was on my way to meeting a friend and we were waiting a little ahead of the toll booth. The taxi followed us and the driver and two others came to our car. They saw my driver outside and they beat him up. I got worried because they were literally pushing him on to the door of my car. I rushed out to rescue him. They got aggressive with me, too. When they left, we followed them and clicked a photo of their number plate. I approached the traffic cops, who directed me to a police station. From there, I was sent to another police station where a complaint was lodged. The cops were very helpful."
Image Source: Instagram/viralbhayani