Shekhar Suman Gets TROLLED Mercilessly For His Indirect Dig At Kangana Ranaut & Simran's Failure
Yesterday, Shekhar Suman took to Twitter to take a sly dig at Kangana Rananut. Little did he know that his crafty remark will not go down with netizens. The actor received severe backlash from them with some terming him as "jobless" while others advising him to take "acting lessons" from the actress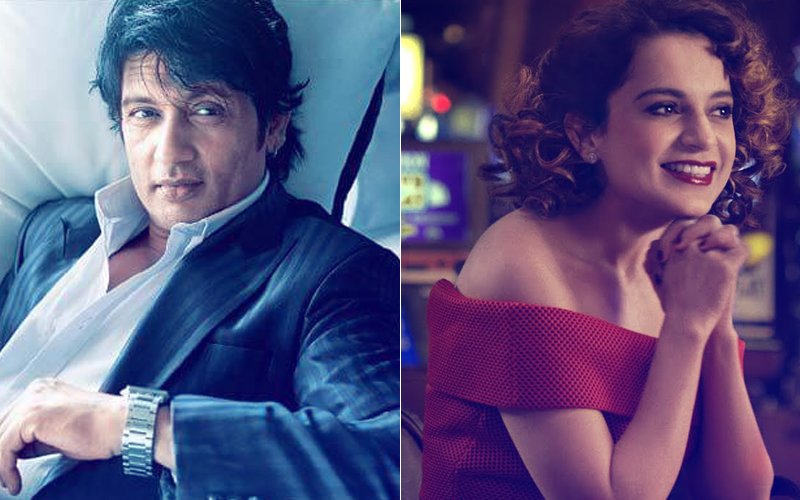 Last evening, Shekhar Suman joined the bandwagon of the Bollywood personalities who took a sly dig at Kangana Ranaut for her bold statements on Hrithik Roshan and Aditya Pancholi on Aap Ki Adalat. The actor took to Twitter and wrote, "Itna hungama ..itna shor sharaba..nateeja?khoda pahad ..nikli chuhiya!" While it is evident that Shekhar was mocking the actress' remarks and Simran's failure, he chose to refrain from naming Kangana.


Little did the actor know that the comment would invite many nasty comments from the twitterati. The moment Shekhar Suman posted this comment, he got trolled mercilessly and a lot of people labelled him as 'jobless', while a few others said that he was jealous of Kangana's success.

Check out a few comments:

A user said: "Adhyan Nai shekhar bolta hai hritik Nai rakesh bolta hai ... Waha sort KANGANA BOLTI HAI ..TUM MARDON SE ACHI HAI HIMMAT WALI HAI (sic)."

Another opined that he is jealous of Kangana's success.

This user suggested Shekhar and his son Adhayan take acting classes.

Another one even said that they were willing to crowd fund his acting classes.

"Baap beta dono nikkame beta phir bhi samajh gaya par baap abbhi chutiyapa kar raha Hai get a life u loser.. (sic)," read another tweet.

"Kam se Kam chuhiya to nikli!! Adhyayan to us layak bhi nhn hai. Atlst wo Apne dam pe kaam kar Rahi hai. BAAP k peeche chup k nhn khadi. (sic)," posted a user.

A netizen opined, "When the so-called man is waiting to scrutinize her movie's BO collection, only goes on to show how much powerful Kangana is.. (sic)."
Someone even asked Shekhar and Adhyayan to take acting classes from Kangana. The user also said that it was quite distasteful to comment on Kangana being a senior actor.

A post read, "aap baap bete apni saari energy kangana par laga rahe ho and wo apne kaam par.khali dimag shaitaan ka ghar..adhyan k liye kuch kaam dhundo (sic)."


One of the users said that Adhyayan is much more sensible than his father as he knows when to shut up.

"Abey chup na retired hurt buddhe apne flop bete k carrier ko dekh, kangana k pas atleast achievments to h, tm 2 baap beto ne kya ukhad lya (sic)," read another tweet.

"Baap bete ko koi publicity aur kaam milta nahin.. bus #KanganaRanaut ke naam pe news mein rehna chahte hain! (sic)," read another tweet.

"Looks like your spitting into the sky!!! (sic)," read a tweet.

In the interview with Rajat Sharma, the actress made a few revelations about Adhyayan Suman, Aditya Pancholi and Hrithik Roshan. Kangana Ranaut was accused of beating up Adhyayan Suman and practising black magic on him. Clearing herself of the accusations, Kangana said, "He was 95 kgs and I was of 49 kgs. How could I ever hit him? I wouldn't be able to? However, now that I look at it, I should have hit him." The actress even spilled beans of her affair with Hrithik Roshan. "I knew the reality when I entered in a relationship with him. It wasn't as if I was fooled. He told me that he would never accept me publicly and the way things were in his family, he would never leave his wife. So, I told him to leave me but he didn't want to do that either. This was the reason I didn't want to do Krrish 3 because when you are not ready to marry me, then I don't want anything with you. But he persuaded me for four months to sign Krrish 3."The actress also accused Aditya Pancholi of keeping her under house arrest.


Image Source: twitter/kanganaranaut & sanjeevnitoday