SHOCKING! Karan Johar's Koffee With Karan Accused Of Plagiarism, Writer Claims The Show Used Content Without Permission, Says, 'I Want Credit For My Work
A writer-journalist has accused 'Koffee With Karan' of plagiarism over using the content in the show's recent episode without permission or giving credit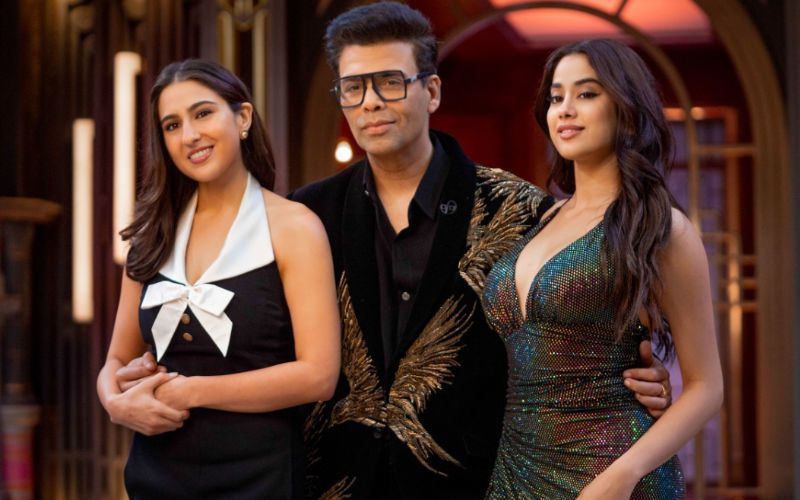 Karan Johar's celebrity chat show 'Koffee With Karan' is one of the most popular and loved talk shows for obvious reasons. The show has some exciting games, tasks, and a popular rapid-fire round for celebrity guests. The show is back with its seventh season and is grabbing eyeballs owing to actors' shocking revelations. However, a writer -journalist Manya Lohit Ahuja has raised an objection over a segment in the show's recent episode claiming that they used her content without permission or any credit.
The writer has accused KWK of plagiarism and mentioned that the recent episode, featuring Janhvi Kapoor and Sara Ali Khan, consisted of content they had created without permission. In the said segment, the host asked both the actresses to guess films in a quiz. Manya Lohit Ahuja took to her Twitter handle and posted a video from the episode and wrote, "So #KoffeeWithKaran lifted the IP I started at @iDivaOfficial and used the whole copy verbatim??? I came up with this concept and I had a lot of fun writing these but to not be credited just because it was frivolous is not acceptable!? If you lift the copy, give the credit." ALSO READ:
Koffee With Karan 7: Janhvi Kapoor REVEALS If She Will Have SEX With Her Ex-Boyfriend, Here's What She Said
The writer also posted the link to an article she had written for iDiva in 2020, which had the exact same question. The article titled 'Calling all Bollywood Buffs: Guess the movie with the help of these badly explained plots' included the K3G question, verbatim. She tagged Karan Johar, Star World, Disney+ Hotstar, and Shreemi Verma, the show's creative team in her post and stated she can't let this go. Manya said she wants the credit for her work, "it may not be world-changing work, but it is her nonetheless."

The makers and KJo are yet to release a statement on the writer's accusations. The new season of the show premiers every Thursday on Disney+ Hotstar.