Indian batsmen Shubman Gill made headlines a few days back after scoring a quick 58 and managing a 121-run opening partnership with skipper Rohit Sharma in the Asia Cup Super Four match against Pakistan. However, the young gun who is winning hearts by doing the job for his country was pretty much in news for dating Sachin Tendulkar's daughter Sara Tendulkar. The duo's breakup news were circulated online but now a media report has claimed that the two are back in a relationship. Yes, fans can rejoice now as both Shubman Gill and Sara Tendulkar are back together after a brief breakup.
ALSO READ | Shubman Gill-Sara Tendulkar's Old Chats LEAKED On Internet Amid Their Dating Rumours; Fans Believe They Shared A Special Bond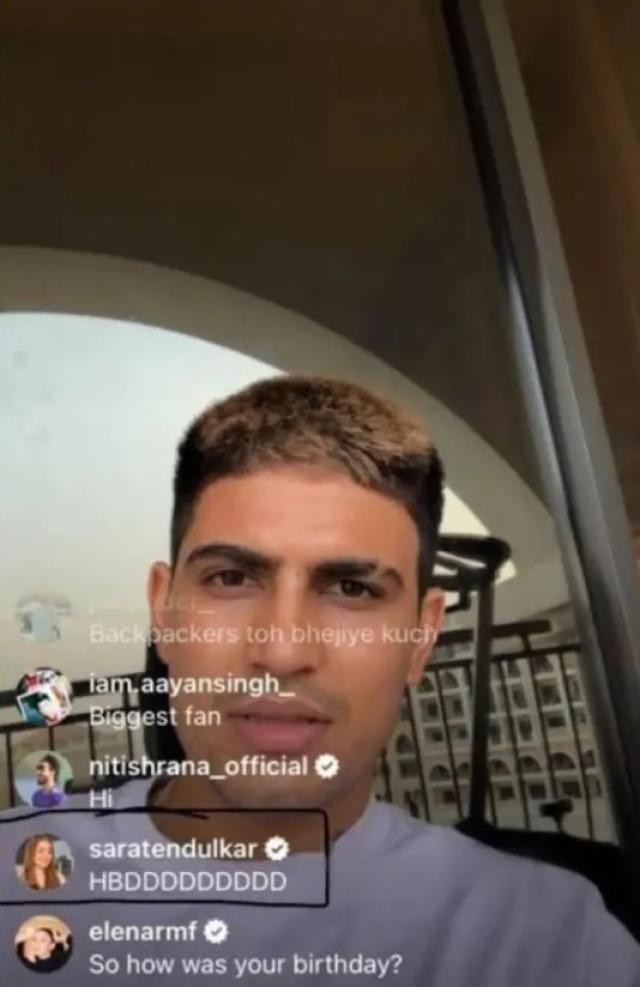 Shubman Gill and Sara Tendulkar are seeing each other despite and now reports of their breakup can be put to rest. It appears that the hopes of their fans have been fulfilled, as the duo has reportedly reunited. According to a Filmfare report, Shubman Gill and Sara Tendulkar are once again a couple following rumors of a brief separation. Additionally, Sara has begun following Shubman's sister, Shahneel Gill, on Instagram which adds on to the confirmation of being in good terms.
ALSO READ | Shubman Gill's LATEST Crush Is THIS Indian Beauty, And It Is NOT Sara Ali Khan Or Sara Tendulkar?
Amidst the widespread speculation surrounding Sara Tendulkar and Shubman Gill's romantic relationship, some old social media interactions between them have resurfaced online. The first screenshot originates from Shubman's Instagram live session on his birthday, where amidst a flood of well-wishes from fans, it was Sara Tendulkar's heartfelt birthday greeting to Shubman that grabbed everyone's attention.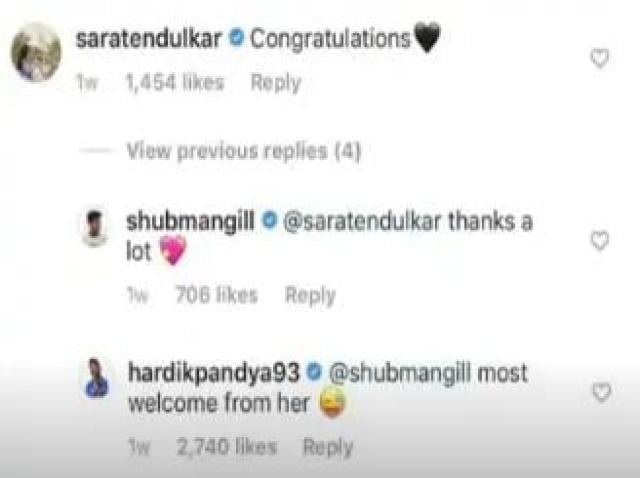 In another viral screenshot showcasing their exchanges on Instagram, Sara expressed her affection for Shubman and wrote "Congratulation" accompanied by a black heart emoji. In response, Shubman thanked her and added a pink heart emoji. The comment section then saw the playful involvement of Hardik Pandya, who teased Shubman by saying: "Most welcome from her."
Shubman Gill will take on Sri Lanka this Sunday in Asia Cup finals. Fans are elated to know the duo is back together!
Image Source: Instagram