Sofia Hayat, who has quit Bollywood after becoming a nun, is the latest celebrity to voice her opinions on the ongoing controversy surrounding 'Kaali' poster. A few days ago, Tamil filmmaker Leena Manimekalai created an uproar on social media after she released the poster of her upcoming documentary film 'Kaali' where she showed the goddess smoking. Now, Sofia has slammed Leena saying that Maa Kali does not smoke and that the director has just 'portrayed her lifestyle' in the poster.
Speaking with ETimes, the former actress said, "Regarding Maa Kali, I have seen her and she is in me. Maa Kali does not smoke. She looks after her body and Maa Kali wants us all to look after our body. To put a cigarette in Maa Kali's mouth is saying that she doesn't care about her health or the health of the children of this planet. It is wrong. She wants us to be healthy." Sofia also criticized the filmmaker for promoting Maa Kali with the LGBTQ community and stated that sexuality doesn't come into play when there is religion. She explained that Maa Kali is not a religion, she is an energy that exists within everybody. ALSO READ:
Kaali Poster Row: Indian High Commission In Canada REACTS To Disrespectful Depiction Of Hindu Goddess: 'Withdraw All Provocative Material'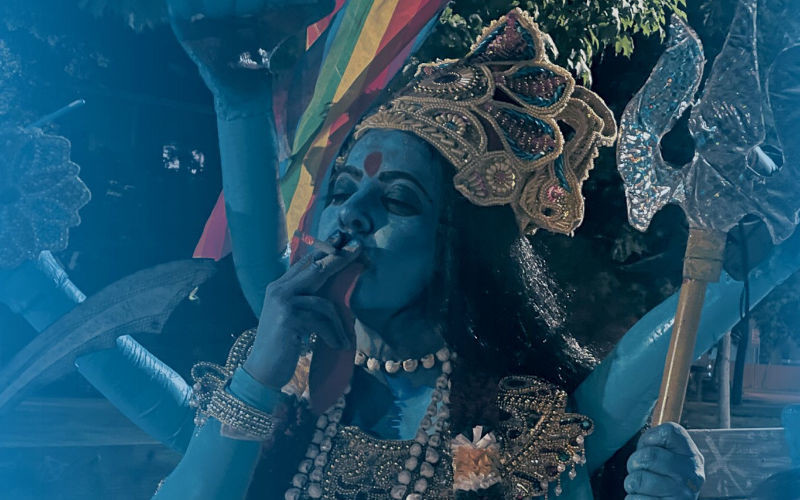 "With the artist showing that Kali Maa is supporting, it's depicting discrimination. This particular artist needs herself to remove discrimination from her own mind. This artist can't hurt religious sentiments. We should just ignore her. Kali Maa is greater than that. So people, who are offended by her, need to rise above her and not give her the attention she is seeking. The artist is only portraying her own discrimination within herself and her unhealthy lifestyle," Sofia Hayat further said.

In the wake of strong criticism, the Indian High Commission in Canada received complaints by several Hindu groups seeking action. The Commission issued a statement urging the Canadian authorities and the event organizers to withdraw all provocative material from the documentary film 'Kaali'. Meanwhile, Twitter has deleted Leena Manimekalai's tweet where she shared the poster of the film.
Image Source: Instagram