Kaali Poster Row: Indian High Commission In Canada REACTS To Disrespectful Depiction Of Hindu Goddess: 'Withdraw All Provocative Material'
Indian High Commission has issued a statement urging the Canadian authorities and the event organizers to withdraw all provocative material from the documentary film 'Kaali'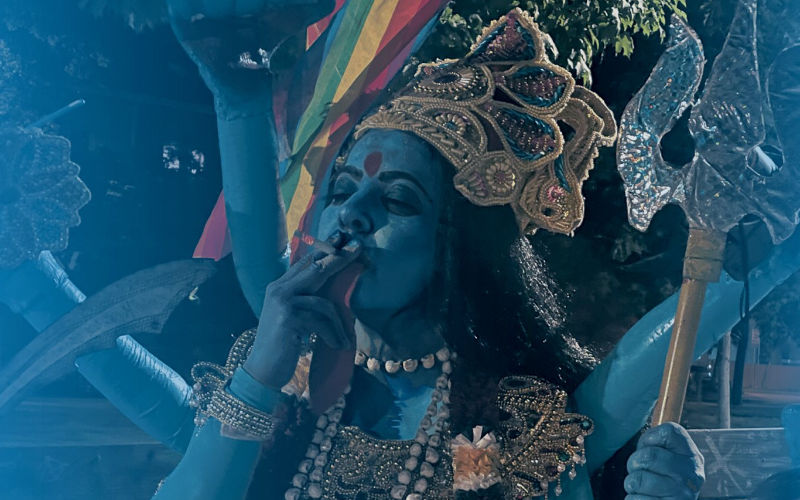 The poster of Leena Manimekalai's upcoming documentary film 'Kaali' has sparked a huge uproar on social media. The poster featured a woman dressed up as the goddess Kaali, smoking and this has miffed netizens, who demanded the arrest of Leena for hurting the religious sentiments. The documentary film was part of a festival 'Rhythms of Canada' at the Aga Khan Museum in Toronto. Now, the Indian High Commission in Canada has reacted to this ongoing row over the poster.
In a statement, the High Commission has asked the Canadian authorities and the event organizers to withdraw all provocative material from the film. The Indian High Commission stated that they have received complaints "from leaders of the Hindu community in Canada about "disrespectful depiction of Hindu Gods on the poster of a film showcased as part of the 'Under the Tent' project at the Aga Khan Museum, Toronto." "Our Consulate General in Toronto has conveyed these concerns to the organisers of the event. "We are also informed that several Hindu groups have approached authorities in Canada to take action. We urge the Canadian authorities and the event organizers to withdraw all such provocative material, the statement read. The High Commission shared the statement on its official Twitter handle. ALSO READ:
Kaali Movie Poster Depicts Goddess Smoking, Netizens Demand Arrest Of The Director, Say 'Everyday Hindu Religion Is Mocked, Is Govt Testing Our Patience'
This controversy has gained momentum in India as well. Delhi-based advocate Vineet Jindal has lodged a complaint against Leena Manimekalai with the Intelligence Fusion & Strategic Operations (IFSO) of the Delhi Police over the poster. The advocate told The Print, "The poster by Leena is really derogatory and inflammatory in terms of religious sentiments. We cannot allow such objectionable pictures in movies."

Meanwhile, Leena Manimekalai took to her Twitter handle to clarify that the film is about the events during Kaali's strolls through the streets of Toronto city. The director also mentioned that she has nothing to lose and that she wishes to live with a voice that speaks without fear.