Sona Mahapatra Gives An Epic Answer To A Netizen Who Asked 'Who's Making A Vaccine To Protect Us From Kangana Ranaut?'
Singer Sona Mohapatra's latest tweet seems to have taken a sly dig at Kangana Ranaut. She replied to a netizen asking who is making a vaccine to save all from Kangana Ranaut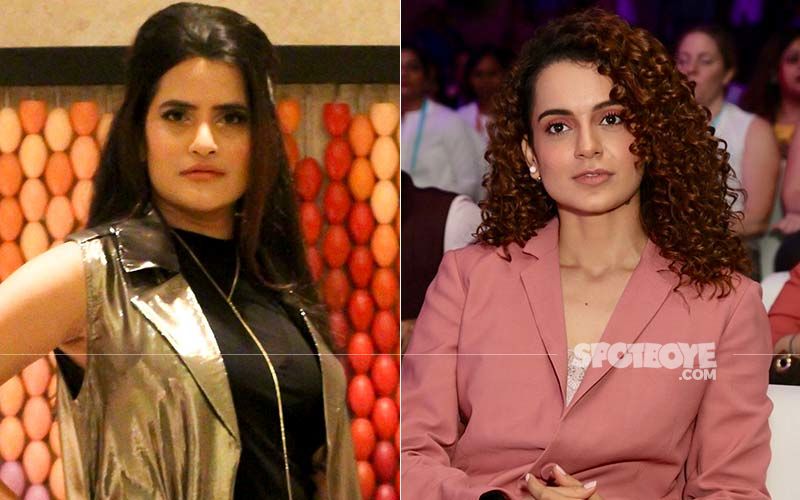 Kangana Ranaut has been making it to the headlines for several reasons. Her explosive tweets always call for attention. Without mincing words, she speaks her mind. She has several times picked on celebrities like Taaspee Pannu, Swara Bhasker, Sona Mohapatra and many others calling them names. From calling Taapsee and Swara B-grade actresses to Kangana's sister Rangoli Chandel calling singer Sona Mohapatra 'junk', a lot has been spoken. Now, it is Sona Mohapatra who seems to have taken a dig at Kangana in her latest tweet.
Replying to a netizen who asked about a vaccine that can protect people from Kangana Ranaut, the singer stated that only the actress can make a vaccine like that. Sona wrote, "I finally found the answer @samirasood; Kangana herself. Cus only she is competent enough to make such a vaccine. She is the question. She is the answer. (Entertaining myself)." Fans are having a mixed reaction on this tweet of Sona Mohapatra. We wait for Kangana's reaction to this.
Currently, Kangana is in the news because of her tweets over Farmers' Protest. Post Rihanna made a tweet supporting farmers, Kangana gave out an interview calling it a conspiracy to take down India. To Republic TV, in an interview she said, "Coming to big revelation coming our way, you are using a very polite word 'defame', that it is a conspiracy to 'defame' India. I think this is a conspiracy to brutally divide India into pieces (Bharat ke brutally tukde karne ki saajiz hai)". Watch this space for more updates.
I finally found the answer @samirasood ; Kangana herself. Cus only she is competent enough to make such a vaccine. She is the question. She is the answer. (Entertaining myself 🎶) https://t.co/5j1jlhX9cX

— Sona Mohapatra (@sonamohapatra) February 6, 2021
Image source: Twitter/sonamohapatra, Instagram/kanganaranaut