Sona Mohapatra Passes A Snide Remark At Pritam Singh After He Sides With Sonakshi Sinha In Justin Bieber Controversy
RJ Pritam Singh, who was part of Sonakshi Sinha-judged Nach Baliye, would have never thought that supporting the actress will invite such an extreme reaction from Sona Mohapatra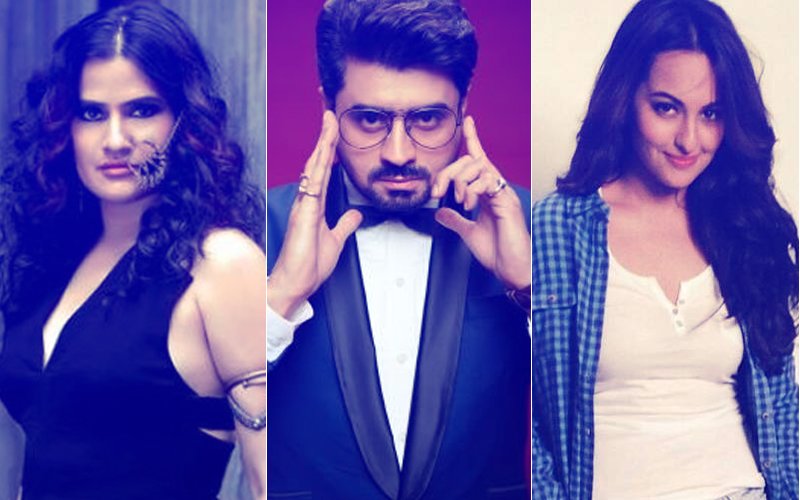 Days after Sonakshi Sinha blocked Sona Mohapatra from her Twitter account for her comments on the Justin Bieber controversy, the singer is now lashing out at Pritam Singh for supporting the actress.

The RJ, who participated in Sonakshi-judged celebrity dance show Nach Baliye (he was eliminated last week) took to Twitter to give his side to the story on the hot topic of actors turning singers.

He said, "I don't see any harm if an actor loves to perform and sing, that is what makes an actor versatile. Sonakshi Sinha is among one such actor who is multi-talented...And I don't think anyone should have a problem with that..Because we only grow when we let others grow. So I totally stand by Sonakshi here. #Pritam Singh (sic)."
Soon after, Sona replied by saying, "Dear Pritam, your bio states that you are an aspiring 'actor'. I do sincerely hope that the family you stand by helps you 'grow' too. Unlikely (sic)."

Ouch!

In case you are wondering what the controversy is, a few days ago, Kailash Kher told a website that he disapproves of the organisers' decision to rope in Sonakshi Sinha for the Justin Bieber gig.

"It doesn't give a good message internationally. They (people overseas) will think that Sonakshi must be a big singer in India. Then she will get concert offers, and then probably Sonakshi will laugh them off saying, 'I am not a singer but an actor'," Kailash said.

Kailash found support in singers like Armaan Malik (Sonakshi and he got into a Twitter spat) and Sona Mohapatra. Soon after, Sonakshi announced that she is not performing with Justin Bieber and added that she is an actor who loves music, who loves to perform and who loves to sing. And if anyone has a problem with that, in the wise words of baba Bieber himself... they can go "love" themselves.

Not in the mood to let it go, Sona Mohapatra took to Twitter to give an earful to the actress.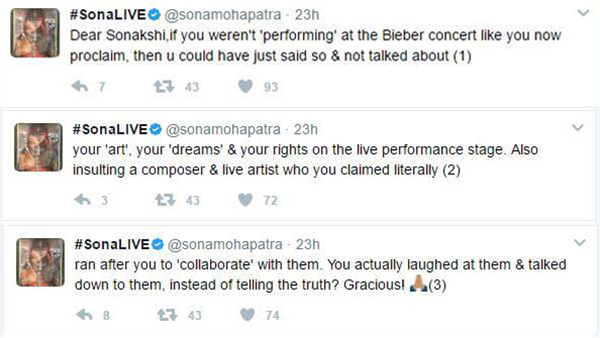 After reading Mohapatra's post, Sonakshi Sinha blocked the singer.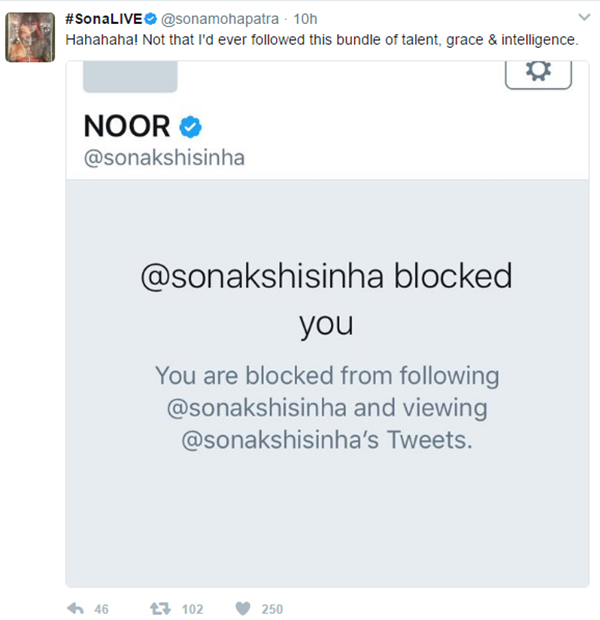 Time to call it truce, guys!
Thumbnail Image Source: ikarmik, twitter/iampritampyaare & instagram/aslisona