Sonam Kapoor Mercilessly TROLLED For Her Speech At King Charles' Coronation; Netizens Say, 'People Like Her Are The Worst Representation Of India'- WATCH
Sonam Kapoor became the laughing stock on the internet after her speech at King Charles' coronation goes viral on social media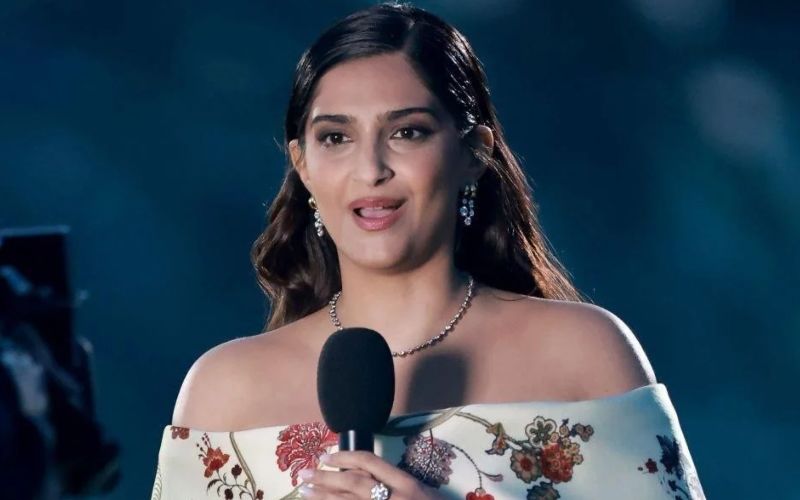 Bollywood actress Sonam Kapoor has been on cloud nine, ever since it was announced a few weeks ago that she would be the only Indian celebrity to attend King Charles' coronation concert. While she left everyone mesmerised with her ensemble event, she became a laughing stock on the internet after her speech during the introduction of the Commonwealth virtual choir, went viral on social media. Netizens took it upon themselves to brutally mock her for praising the British empire.
In a video uploaded on the subreddit BollyBlindsNGossip, Sonam is introduced as 'one of Indian cinema's biggest stars'. Dressed in a beautiful white off-shoulder gown with floral design, by Anamika Khanna and Emilia Wickstead, the actress completed her outfit with a dainty necklace and earring. In her speech she can be heard introducing Steve Winwood, who performed his iconic song Higher Love with a 70-piece orchestra.
ALSO READ: OMG! Sonam Kapoor Becomes The ONLY Indian Celebrity To Attend King Charles 3's Coronation Concert- REPORT
In her one minute speech, the actress goes on to talk about how there might be similarities between the countries, but each one is beautiful because of its diverse history, values and diversity. Quoted by BollywoodShaadis, she further adds, "Learning from our history, blessed by our diversity, driven by our values and determined to build a more peaceful, sustainable and prosperous future for everyone, where every voice is heard. Without further ado, here's welcoming the incredible voices from across the Commonwealth."
ALSO READ: Sonam Kapoor Opens Up About Dealing With Postpartum Weight, Says, 'I Am Still Breastfeeding, Not On Any Crazy Diet'
Netizens immediately took to the comment section of the viral video to criticise her for praising people that looted the country. One said, "What the actual fuck? She says "learning from History"? BC they looted our country!" Another said, "She literally isn't good at anything." Other one said, "Honestly, people like Sonam are the worst representation of India. Her absolute privilege and ignorance is appalling through and through. She came, she shamed her own, and she so called "throned herself" as the best."
On the personal front, Sonam Kapoor tied the knot with her longtime boyfriend, businessman Anand Ahuja in 2018. The couple announced their pregnancy in March 2022 and they welcomed their son Vayu Kapoor Ahuja in August 2022. Talking about her pregnancy, she has been very active in answering questions about her prenatal, pregnancy, and post-natal journey.
Image Source: Reddit