Sonam Kapoor Pays Tribute To Late NBA Player Kobe Bryant, Pens The Maha Mrityunjaya Jaap
Sonam Kapoor taking to her Instagram account paid tribute to late NBA player Kobe Bryant. The actress penned one of the Hindu religion prayers, Maha Mrityunjaya Jaap in her Instagram post, and her hubby Anand Ahuja also commented on the same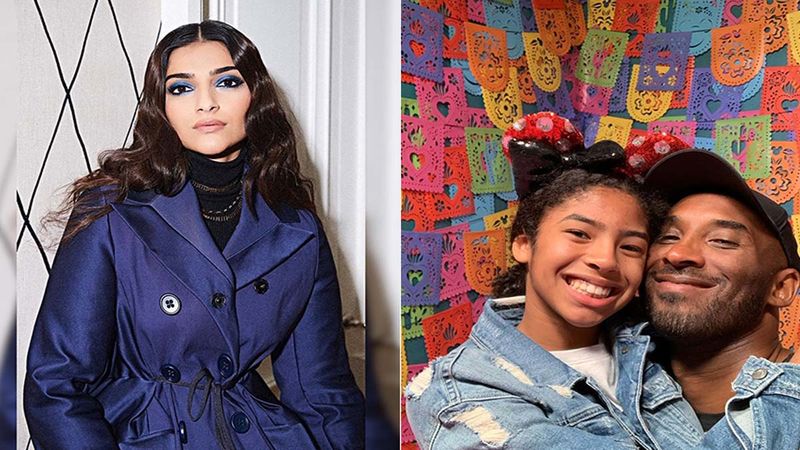 Legendary NBA player Kobe Bryant passed away a week ago, with the entire world mourning due to his sudden death. Now taking to her Instagram account, the fashionista of Bollywood, Sonam Kapoor too paid her tribute to the legendary basketball player. Her Instagram post reflects our cultural values. Sharing a picture of the basketball player with his daughter Gianna who breathed her last, she wrote few lines of the Hindu religion's one of the prayers, Maha Mrityunjaya Jaap, in devnagiri script.
The post has a picture of the father-daughter duo carrying young Gianna on his shoulder. While she rests her hands on his tonsure, looking away from the lens, possibly engrossed in something. This post of Sonam received a moment from her hubby Anand Ahuja too. His comment read, "Beautiful prayer and tribute @sonamkapoor ... thanks for sharing that." Her post read, "ॐ त्र्यम्बकं यजामहे सुगन्धिं पुष्टिवर्धनम् । उर्वारुकमिव बन्धनान् मृत्योर्मुक्षीय मामृतात् ||" Check out Sonam Kapoor's post below. ALSO READ:
Vanessa Bryant Shares A Heartrending Image Of Her Late Husband Kobe Bryant And Daughter: 'There Is No #24 Without #2'
This Hindu prayer is meant for mental, physical and emotional health and also helps in immortality and longevity.


Image Source: Instagram/kobebryant/sonamkapoor