Sonam Kapoor Reception: Ranveer & Arjun Were 'High' On Spirits! Here's What Happened Next...
Ranveer Singh and Arjun Kapoor are known for their camaraderie. Last night, at Sonam Kapoor's reception party, the 'baba' duo went all out to rock the party. Here are their hilarious videos...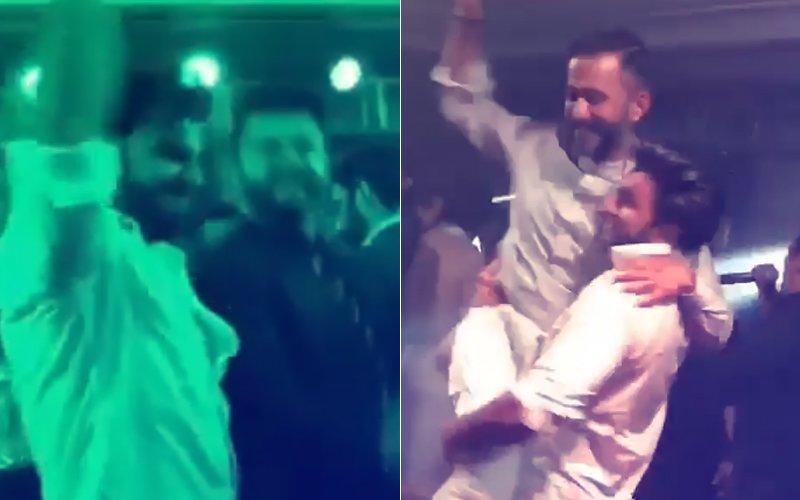 There was music, there was champagne and the vibes were electric and full of enthusiasm at Sonam Kapoor's wedding reception that took place last night at The Leela, Mumbai.

We brought you videos of Bollywood's two superstars- Shah Rukh Khan and Salman Khan killing it at the party with their dance moves on Tan Tana Tan.

And now watch the two young stars of the industry- Ranveer Singh and Arjun Kapoor going crazy at the party. They definitely know how to have fun and rock the bash.

Here's a video of Ranveer Singh picking up Anand Ahuja in his arms and twirling around with him. We wonder if Anand is enjoying the ride or feeling embarrassed? But does Ranveer care?

Now, look at Arjun Kapoor and Ranveer Singh going LIVE on Instagram simultaneously. Clearly, they had no idea that both of them are live at the same time. Don't miss the part where Arjun calls Ranveer a sex god!

Then there were dances videos where Ranveer, Varun and Arjun are seen grooving to Khalbali and more songs:
Now, doesn't it look like a real party? We're sure Ranveer and Arjun entertained the guests at the reception like no one's watching.
Talking about the newlyweds, Sonam and Anand tied the knot at the actress' aunt's bungalow, Rockdale in Bandra yesterday. The bride and the groom looked eternal in combination of red and beige. While the wedding was attended by a few Bollywood celebrities close to the Kapoors, the reception witnessed a big turnout from the industry. Shah Rukh, Salman, Abhishek, Aishwarya, Rani, Kareena, Saif, Karan, Katrina, Alia, Ranbir and many others made it to the reception of Bollywood's fashionista- Sonam Kapoor.