Sonam Kapoor Responds To Abhay Deol, Gets Trolled & Deletes Tweets
Abhay Deol had the social media buzzing yesterday when he slammed Bollywood stars like Shah Rukh Khan, Sonam Kapoor for endorsing fair skin. Not the one to stay quiet, Sonam replied to her Aisha co-star but unfortunately landed in a 'troll' soup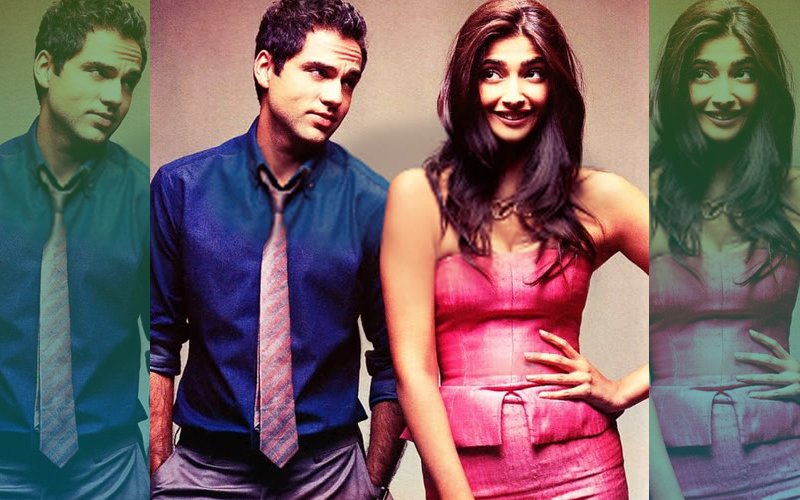 Tch. Tch. Sonam, what were you thinking? - Guess that's what Abhay Deol has on his mind right now.

Yesterday, Abhay slammed a few A-list actors, including Sonam Kapoor, for endorsing fairness creams. Seeing her name in the list, Sonam Kapoor decided to give Abhay a sarcastic reply and maybe thought he would get trolled but little did she know that the Twitteratis would troll her back. Later, she deleted her tweets.

Sonam Kapoor's first tweet was a picture of Abhay Deol's half-sister Esha Deol which read, "@AbhayDeol I appreciate and concur with your views and would like to know your thoughts on this as well!"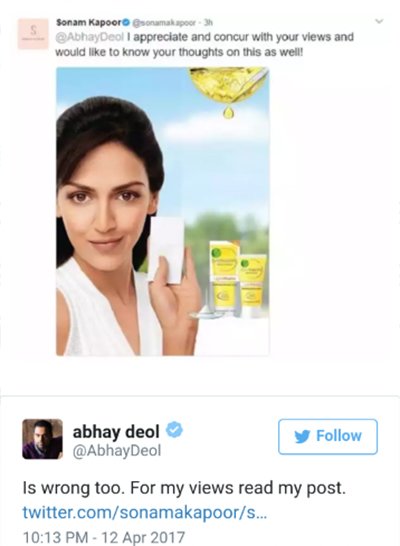 Abhay too promptly replied to Sonam. Sticking to his belief, he replied, "Is wrong too. For my views read my post."

Realising that her comment made no impact on Abhay and he called Esha Deol's advertisement wrong too, Sonam Kapoor shot back with another pitch. She then tweeted, "Shot for the ad 10 years back and was not aware of the ramifications then."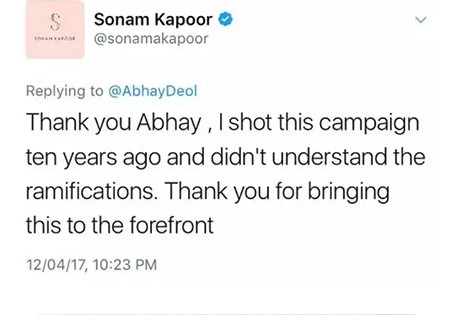 Keeping his calm, Abhay smartly said, "More power to you @sonamakapoor maybe you can use your power as well to take this further than the forefront."

However, by now Sonam started getting trolled for her Esha Deol tweet. Of course, looking at all the negative comments she got irritated and her next tweet reflected just that. Sonam said, "Did anyone bother reading this tweet or just want to troll. I think it's important to know the whole picture before jumping to conclusions"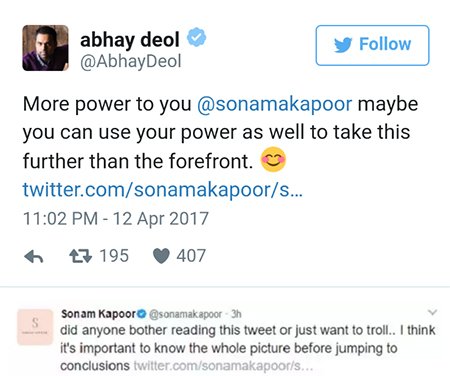 Ouch! And after that Sonam deleted all the tweets. Looks like she realised it was a wrong move!


Thumbnail Image Source: tonspil