Sonam Kapoor's Family Members Post Announcing Her Baby Boy's Arrival Has A Unique Image Of Eagle And Deer; Find Out Its SIGNIFICANCE Here!
An aesthetic image used by Sonam Kapoor's family to announce her baby's arrival has a special significance, scroll down to the story to find it out!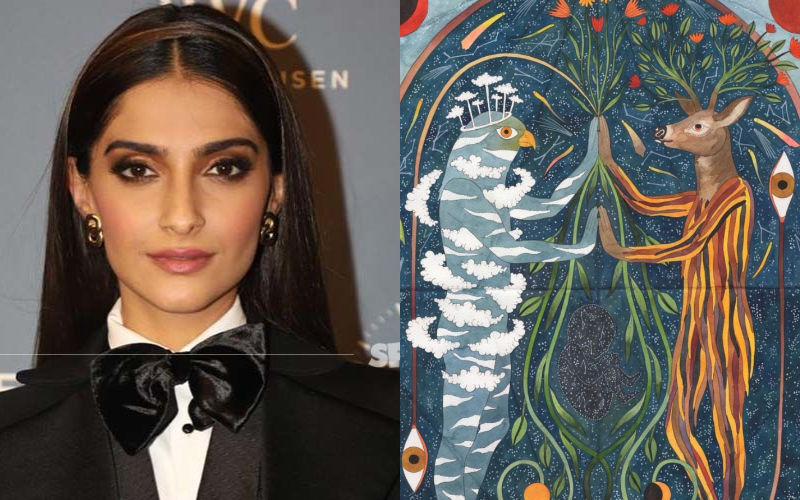 A few days ago, Bollywood's masakali girl Sonam Kapoor Ahuja welcomed her first child with her husband Anand Ahuja. The actress gave birth to a healthy baby boy on August 20 and her family members confirmed the happy news on social media. Notably, Neetu Kapoor was the first one to share the news of the arrival of Sonam's little munchkin. The veteran actress posted an aesthetic image while extending her wishes to the new parents.
What caught everyone's attention was this special image which featured an eagle and a deer. And now the significance behind this picture has been revealed. An Instagram page titled Tarq Mumbai recently shared the original and clear photo shared by Neetu and revealed that it was commissioned from the popular artist Rithika Merchant. Revealing its significance, the post was captioned, "Specially commissioned for Sonam and Anand on this special occasion, Rithika Merchant refers to the universal concepts of a union between the Sky Father and gentle, attentive, and watchful Earth Mother, represented in this work titled "Nova" by the Eagle and the Deer respectively." Sharing the post, the user tagged both Sonam and Anand. Taking to the comments section, the actress wrote, "I love this so much I can't tell you. It represents all my emotions." ALSO READ
: Sonam Kapoor On Giving Birth To A Healthy Baby Boy At 37: 'I Took Progesterone Shots In My Thighs And Stomach'
Meanwhile, new mommy Sonam Kapoor in an interview with Vogue opened up about embracing motherhood at the age of 37. The Neerja actress revealed she took 'progesterone shots in her thighs, stomach, and practically everywhere on her body.' Sonam was quoted saying, "It was tough. I was taking progesterone shots in my thighs and stomach—practically everywhere on my body — because I was of advanced maternal age and was constantly throwing up, sick, and bedridden. Everyone's so tense about women who get pregnant after 31 or 32. They tell you don't do this, don't do that, don't get gestational diabetes or pre-eclampsia. I was like, 'wait, hang on, I still feel very young. I've got my dad's (Anil Kapoor) genes, I look very young. It'll be fine."

Interestingly, Sonam's sister Rhea Kapoor recently sent the internet into a meltdown after she dropped the first pictures of Sonam's newborn baby boy.
Image Source: Instagram