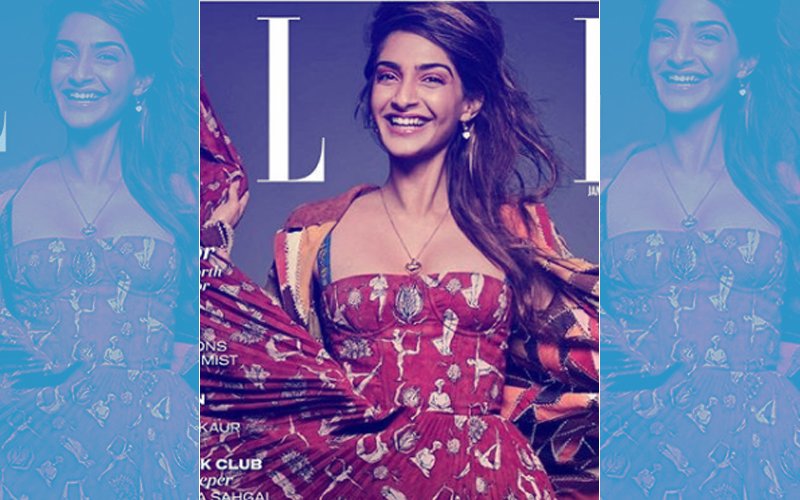 No sooner the co-founder of People Tree Orijit Sen saw Sonam Kapoor on the popular magazine cover, he went red with rage. Reason? Orijit claims that the outfit Sonam wore was a copy-paste job of his design.
Sonam Kapoor recently shared the post on her Instagram account with the caption, "For the January Cover of @elleindiaofficial 👗: @malini_banerji 📸: @johnpaulpietrus 💇🏽‍♀️: @khairstudio / @animacreatives 💄: @rubyhammer 💅🏽: @cherriesnow 👚: @dior."
Orijit Sen also shared his anger on Facebook and wrote, "I'd like to set an example here - so these mega brands with mega budgets think twice before plagiarising the work of small independent creators with impunity. It happens all the time. It must be halted! #Dior #Designparasites — with Gurpreet Sidhu and Pakhi Sen."
"I'm angry. It's virtually copy-pasted job of our design. We started People Tree in 1990. From the mid-90s, we have been working with a small community of natural dye and block printing artisans in a village called Kaladera in Rajasthan. It's been over 20 years since we've been working with them, and in the process, we have created a wide range of original block print designs which we use to make t-shirts and fabrics. This is just one of the many designs we have created," said Orijit Sen to a tabloid.
As per the report, graphic designer Gurpreet Sidhu and his wife had collaborated with the People Tree to create the design in question in 2000. "It's one of our classics, which has sustained itself because of its popularity. It's not just a question of inspiration. They [Dior] have also copied the colour combination. It's a total rip off. We are in talks with a lawyer to see what our legal options are," said Sidhu.
The co-owner of Sen does not believe in copyrighting original designs to safeguard himself from plagiarism. "Art is the free-flowing exchange of ideas. Would I rather concern myself with protecting it? Instead of supporting and honouring Indian crafts and textiles, they [big labels] are feeding off our hard labour," he said. However the co-owner explains that he has his sketches to prove that he owns the design but is not sure if he can take Dior to court.
Suneera Nerissa Madhok, founding partner of the legal firm Nomos Associates also spoke on the matter. She elaborated on the Section 15 of the Copyright Act and said that that copyright in a design shall cease when any article to which the design was applied, is reproduced more than 50 times by an industrial process by the owner of the copyright or under a registered license. More importantly, failure to register a creation capable of being registered as a design may result in loss of copyright and design protection.
Let's see how Dior responds to Orijit's allegation.
Image Source:instgram/sonamkapoor