Soon-To-Be Mum Neha Dhupia: 'If This Was My First Pregnancy In The Midst Of A Pandemic, I Would Have Been Struck By A Lot More Paranoia' - EXCLUSIVE VIDEO
Neha Dhupia, who is currently in her second pregnancy with husband Angad Bedi, talks about motherhood the second time around, the effect of the pandemic on her approach in pregnancy, working on No Filter Neha, Roadies and more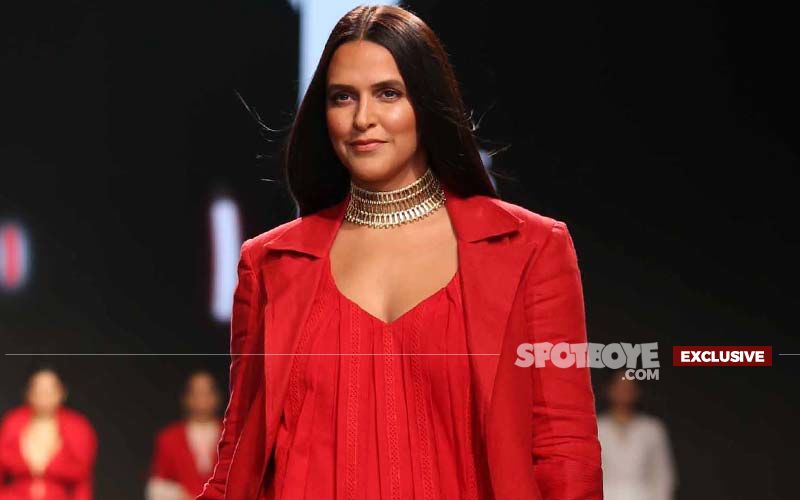 Last month, Neha Dhupia and Angad Bedi announced their big news to the world that they are expecting their second kid with a cute family picture along with daughter Mehr on their social media. The actress and soon-to-be mum is enjoying this phase of life for the second time and in an exclusive conversation with SpotboyE.com gets candid about motherhood, the effect of the pandemic on her approach in pregnancy, working on No Filter Neha, Roadies and more. Read excerpts from the interview:
Neha, this is your second pregnancy, so how different is the feeling of motherhood this time?
It's very different as firstly, you know what to expect this time around. Secondly, I am not saying that mums make mistakes but you learn from your experiences. Thirdly, before Mehr's birth I was referring to everything and everyone for advice, but this time I am my own reference point. Fourthly, it is exhausting as I have a child who is outside and also a baby growing inside of me. It's so demanding.

In my experience, the more you try to get your child accustomed to the fact that there would be another baby coming soon who would be their sibling, it can be challenging. Mehr is just a little older than two-and-a-half years old and what ends up happening is that she wants more and more mumma-time.
She is going through a phase where she understands things and is super excited. She talks about what she wants to share with the baby and even have a special name for the baby. But there's also this thing that she would also have to share her parents and we want to make extremely sure that we, as parents, are constantly working towards making sure that she understands that she is as important and we want to give her more time. The new one is going to be sleeping mostly, so we want to give the baby a lot of attention, but with Mehr it's both time and attention.
So, has Mehr shown any inclination about who she wants, a little brother or little sister?
I don't know. Now she has this little group with whom sometimes she would go out on a couple of these play dates and then say I want a brother or sister like them. Sometimes, she would name a girl or sometimes a boy. With us also, we just pray each day that it's a safe pregnancy and a healthy baby and that is all that matters.

In this day and age, there are hundred things we have been hit by like covid or lack of time to get vaccinated. The pregnancy started much before the vaccine got sanctioned, so it just has been a lot. It's been very different as it's not one of those times that you have a craving and you can just go down and eat. It has not been relaxed.
As you mentioned, how has the pandemic and the surrounding conditions affected your approach towards your pregnancy?
My approach definitely has changed and I feel that if this was my first pregnancy in the midst a pandemic, I would have been struck by a lot more paranoia. Now, I am working on caution but I am not struck by paranoia. I can imagine how hard it would be for first-time mums.

I also run this parenting and breastfeeding community called Freedom To Feed, where we came forward with a petition started by Priyali Sur that let's pregnant women choose if they want to be vaccinated or not. That is something we took forward to and it's great that the petition has come through. Pregnant women, if they want to get vaccinated, it's their choice entirely. I haven't done so yet, but in good time, I will.
Has Angad planned to take a paternal leave after you deliver?
No, I don't think so he would be doing that at all. He's going to be around and I have told him that he doesn't need to take time off as we have it under control. He is definitely going to check with me when he gets a project and he wants to take it up, but apart from that, I am the one who has advised him not to take a leave. We are all for equal parenting and initially the baby sleeps so much and you are feeding and you definitely need your partner but if he's got to go to work after one or two months, I totally get it. I feel like sometimes I need him around more because Mehr will need our time together. So, it's just that.

Has there been any decision taken on the next season of your show No filter Neha, if it will be pushed or carried on in a different way?
There are talks going on, so let's see if and when it happens. I am shooting and going back to set for other things, be it for advertisements, magazine or film shoots. I am continuing with my commitments and I am really grateful for the people who held on to me. It's a tough place and professionally, be it in a bank or on a film set, you are usually riding solo as you are probably the only pregnant woman in the room at that particular time. So, all the support is definitely needed.

I am guessing you would be giving the next season of Roadies a miss…
You will see me wherever I am destined to be (laughs). I can't reveal more.

In the recent years, the industry moms have embraced their pregnancy and motherhood very proudly doing pregnancy photoshoots and such. Do you intend to do any such things?
As much as I can step out and as much work I can do, I am doing. I have never shied away from the phase in my life I am living, be it professionally or personally. Motherhood is such a beautiful phase and I want to embrace it and work with people who are ready to embrace it with me. For the ones who think they need a different person for their projects, so be it, but as far as I am concerned, I am working with people who make me feel comfortable as that's what is needed right now more than anything else. I am working on some film stuff but I can't talk about it yet. But I am filming these days and it's really exciting to be filming with the way that I am.





Image Source: Instagram/nehadhupia, spotboye archives