Sunaina Roshan To Meet Kangana Ranaut Today; Wants Actress To Rescue Her From The Roshans
Sunaina Roshan has revealed that she would be meeting Kangana Ranaut and her sister Rangoli Chandel, later in the day. Sunaina has sought Kangana's help and she says, she would like the Manikarnika actress to bring her justice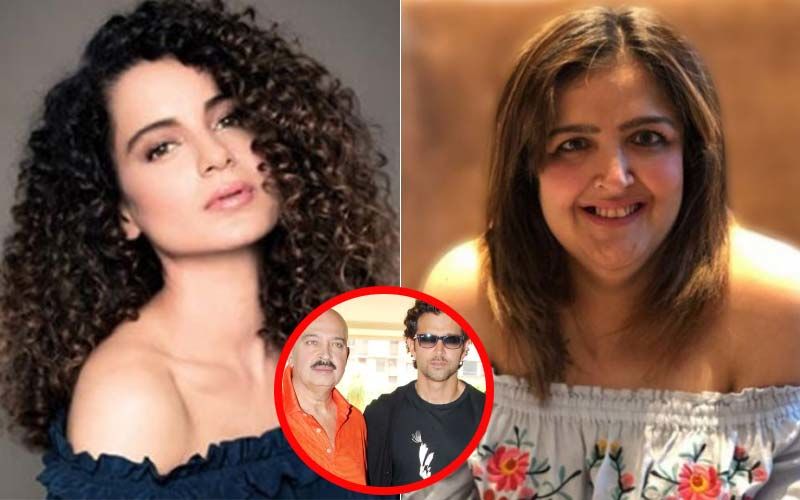 Sunaina Roshan has been asking for help from her brother, Hrithik Roshan's alleged former lover, Kangana Ranaut, says Rangoli Chandel. Yesterday,
Sunaina's tweet about supporting Kangana
had gone viral in no time. Sunaina had also tweeted that she was "living in hell." Now, in a recent interview with Pinkvilla,
Sunaina has blamed the entire Roshan family of harassing her.
A while ago, we told you,
Sunaina accused her father and filmmaker Rakesh Roshan of slapping her when he got to know about her Muslim boyfriend.
In the same interview,
Sunaina spoke at length about how she got in touch with Kangana
to seek help from her. Sunaina also revealed that she will be meeting Kangana, along with Rangoli, later today.
I agree, but Kangana was so distressed after so many calls from Sunaina, Roshans are capable of harming Kangana but this time around I am very careful I myself also spoke to Sunaina, I have kept all the messages and recordings, Sunaina is in trouble for sure...(contd) https://t.co/KJ6Kl6WCss

— Rangoli Chandel (@Rangoli_A) June 19, 2019
During her conversation with Pinkvilla, when she was asked if she has asked Kangana Ranaut for help, she said, "I got in touch with Kangana recently to ask for help, because she represents women power. I support women power and I support Kangana today. Kangana is a woman and she has the right to ask for help and so do I. She wants justice and so do I. I don't know what happened between my brother and her but obviously, there cannot be any smoke without fire. Kangana and I were friends before and then we lost touch. I have always been extremely fond of Kangana but two years ago, when she won a national award, I messaged her, she told me 'Don't be friends with me or be in touch because of the family,' and I was wondering what was happening as I wasn't aware of what was happening. Nobody told me. That's when I asked my family what is going on and if my brother has any proof, tell him to put it out into the open. Why is he hiding the proof?"

Sunaina Roshan is asking Kangana for help, her family is physically assaulting her because she is in love with a Muslim man from Delhi, last week they got a lady cop who slapped her, her father also hit her, her brother is trying to put her behind bars..(contd)

— Rangoli Chandel (@Rangoli_A) June 19, 2019
Talking about Rangoli's tweets, she said, "I am living in hell as usual! I read Rangoli's tweets and I don't care because that is the truth. I am fine with her tweeting because I want the truth to come out. I have always supported the truth and I will always support it. I am meeting Kangana and Rangoli today as they are bringing me justice. I know this stance of mine will go against me but I don't care…"