Maqbool- A certificate, Omkara- A certificate, Saath Khoon Maaf- A certificate, followed by a few unpleasant episodes with the Censor Board for Kaminey, and yet again an A certificate for the film.
But now, Vishal Bhardwaj has changed his game. He has managed to get a U/A certificate for his upcoming film Rangoon, starring Saif Ali Khan, Shahid Kapoor and Kangana Ranaut.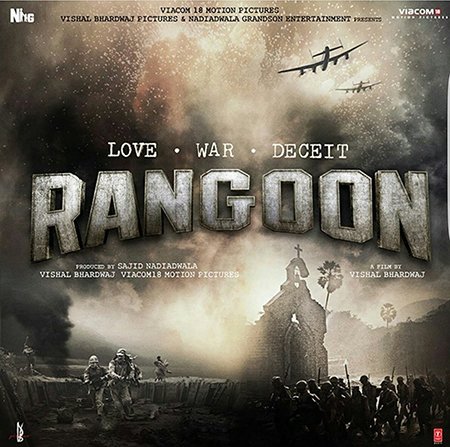 Vishal Bhardwaj's last film, Haider (2014), with Shahid Kapoor also got a U/A certificate but only after as many as 41 cuts. However, Rangoon has been given a U/A certificate after just 5 cuts. Surely, Vishal has learnt the tricks and trade of the game.
A source close to the development told SpotboyE.com, "Rangoon is a very bold film but at no stage does it cross the line. The scenes rise to a daring level but smartly cease at a point, leaving us with no reason to induct any cuts."
Bhardwaj is known to make films which don't cater to a universal audience. His films are undoubtedly dark, bold and involve usage of crass language at times. When he started his career as a director in Bollywood, his initial films like Maqbool(2003) and Omkara(2006) got A certificates. Not much noise was made during Maqbool considering the subject catered to an adult audience but even during Omkara, Vishal didn't really care about the certification.
After the release of Omkara, Vishal had said, "They (Censor board) very kindly gave me the choice of either erasing the expletives and giving me a 'U' certificate or retaining the expletives with an 'A' certificate. I chose the latter option because I knew in any case that the film isn't suitable for kids, with or without expletives."
However, in 2009, Bhardwaj had a rough experience with the Censor Board for his film Kaminey. Shahid Kapoor and Priyanka Chopra starrer film Kaminey got an A certificate. Not agreeing with the Board's decision, Vishal felt that it was injustice to the film as there was no abusive language used and even the violence in the film was of 'comic book kind'. He was extremely vocal about it.
But after Haider, securing a U/A certificate (with just 5 cuts) for Rangoon as well, it looks like Vishal surely has learnt how to tackle the Censor Board and smartly make a bold film. Rangoon is slated to release on February 24.
Thumbnail Image Source: twitter/shahidkapoor & edubilla