Sushant Singh Rajput Demise: Old Video Of Sonam Kapoor On KWK Claiming She Hasn't Seen SSR Films Goes Viral; Netizens Accuse Her Of Showing 'Fake Sympathy'
OOPS! Netizens dig out an old video of Sonam Kapoor saying she hasn't seen any Sushant Singh Rajput film and accuse her of being a hypocrite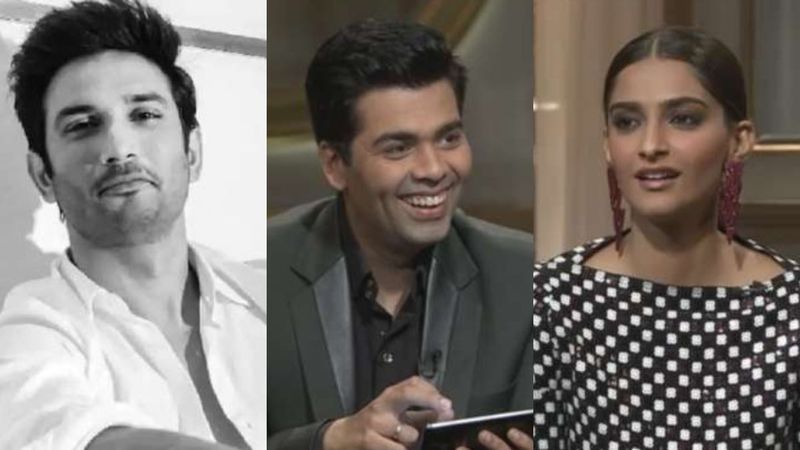 Sushant Singh Rajput's tragic demise has brewed a storm of mixed emotions among all his fans. While many are distressed on such huge loss, a section of people is also enraged with many popular names of Bollywood for allegedly contributing to his degrading mental health. As per them, certain Bollywood bigwigs and nepotism are among two of most crucial reasons behind Sushant's death for mocking him on the national television, throwing him off some big projects, not inviting him to the parties or snubbing his acclaimed performances for star-kids. After a video of Karan Johar and Alia Bhatt discussing Sushant at KWK, yet another clip of Sonam Kapoor from the show has gone viral and it has only got her at the receiving end of criticism and backlash.
The video is from Koffee With Karan's season 4, episode 18 that had Sonam Kapoor appearing alongside her father, Anil Kapoor. It sees host Karan Johar playing the 'hot or not' game wherein Sonam was given a few names and she had to reveal if she found them hot or not hot. Upon hearing Ranbir Kapoor and Imran Khan's name, Sonam Kapoor said she finds them extremely hot, while she went "Huh?" and paused after hearing Sushant Singh Rajput's name, to which, KJo ended up laughing. The actress added, "Hot I guess, I don't know, I haven't seen his films." This hasn't gone down well with all the netizens, who are bashing Sonam and calling her arrogant for not knowing someone who had two big releases during that phase.
"Koffee With Karan (#KaranJoharIsBULLY ) Aired 2014. @sonamakapoor didnt knew who #SushantSinghRajput was after his brilliant work in KAI PO CHE(2013) and SHUDH DESI ROMANCE(2013) And now they are showing thier fake sympathy towards a really talented person #BoycottKaranJoharGang," wrote an angry user as he shared the clip.
Take a look:
Before this, Sonam had paid tribute to Sushant upon hearing the news of his demise; she was slammed for that as well. Netizens called her a hypocrite by writing, "Oh now you know him?"
image source: twitter