Sushant Singh Rajput Had Chalked Out A To-Do List For June 29; Sister Shweta Singh Kirti Shares Picture Of Whiteboard Where He Wrote Everything
Amid the controversy surrounding his suicide, Sushant Singh Rajput's sister shares a picture of a whiteboard where the actor had written his plans for June 29.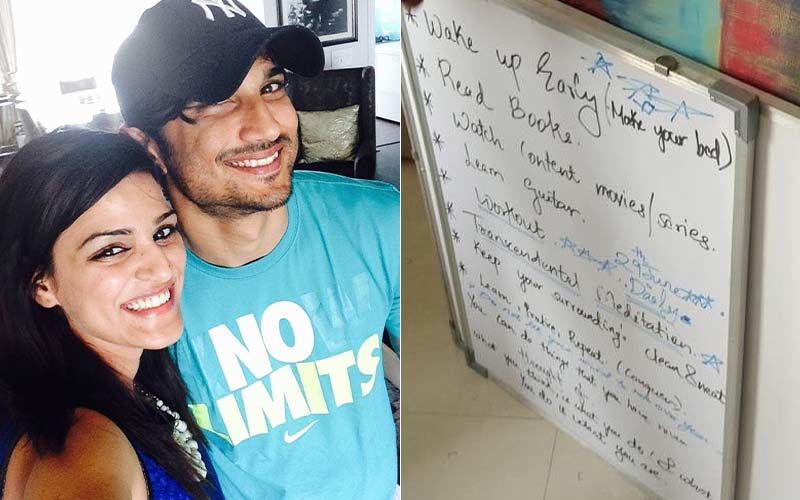 After Sushant Singh Rajput's untimely demise on June 14, a big debate is going on whether the actor was under depression due to which he committed suicide or not. Sushant's girlfriend Rhea Chakraborty and his flatmate Siddharth Pithani said that the actor was depressed and was under treatment for which he was taken a particular medication whereas his former girlfriend Ankita Lokhande said he can't be a depressed man. Also, his friends and colleagues who spoke about his death maintained that Sushant was a lively person and they can't believe he can commit suicide due to depression. Now proving the point his sister Shweta Singh Kirti shared a photo of a whiteboard where the actor had mentioned what all he wanted to start doing from June 29.
ALSO READ:
Actor Nandish Singh Sandhu On Sushant Singh Rajput's Death: 'I Take My Words Back There is Definitely more To It"
Taking to her Instagram Shweta shared the picture and wrote, "Bhai's White Board where he was planning to start his workout and transcendental meditation from 29th June daily. So he was planning ahead. #justiceforsushantsinghrajput". In his list, the actor had listed that he needs to start waking up early in the morning and making his own bed. Watching content from movies to web series. Learning guitar, Workout, Transcendental Meditation, Keeping his surroundings neat and clean, Learn, practice, repeat and conquer, Doing things he has thought of. Ending with a motivational quote saying, 'what you think is what you do is what you are'. ALSO READ:
BREAKING

:

Teary

eyed

Rhea

Chakraborty

Says

'

Justice

With

Prevail

'

After

Sushant

Singh

Rajput's

Father

Does

An

FIR

Against

Her
Also, Shweta constantly is giving updates regarding her conversations with her brother and how much she misses him and today she finally made an appeal to PMO Narendra Modi. In her open letter, she mentions the need for scanning the case and to make sure that everything is handled in a sanitized way and evidence is not tampered. In her letter, she mentioned, " Dear Sir somehow my heart says you stand by the truth. We are from a very simple family. My brother had no Godfather when he was in Bollywood nor do we have anyone right now. My request to you is to immediately look into this case and make sure that everything is handled in a sanitized way and no evidence is tampered with. Expecting justice to prevail".