Sushma Swaraj Passes Away: Virat Kohli, Ajay Devgn, Disha Patani, R Madhavan Mourn; PM Narendra Modi Gets Emotional
Virat Kohli, Disha Patani, R Madhavan, and Arjun Rampal mourn the death of Former External Affairs Minister, Sushma Swaraj. Watch PM Modi get emotional as he pays his last respects to the late politico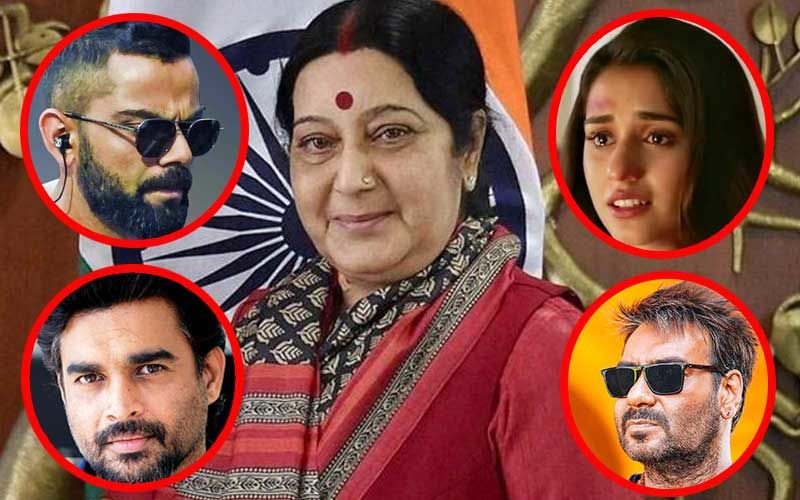 One and all have been left shocked after learning about the sudden demise of Former External Affairs Minister Sushma Swaraj following a cardiac arrest, last night. The much admired politician was admitted to AIIMS Delhi, where she was under observation by a team of 5 doctors. She was critical before she breathed her last in the hospital. Soon after the news of her death broke, the nation went into mourning over her sad demise.
After Akshay Kumar, Amitabh Bachchan and Swara Bhakser, Virat Kohli, Disha Patani, R Madhavan, Arjun Rampal and others have now taken to social media and mourned the death of former External Affairs Minister. Virat Kohli wrote, "Deeply saddened by the news of Sushma Ji's demise, may her soul rest in peace."
Disha Patani: A leader loved and respected by people of all political beliefs. May her soul rest in peace. #RIPSushmaJi
Arjun Rampal: Really sad news about Sushma Swaraj ji, a truly dynamic personality and politician. May her soul rest in peace. Prayers and thoughts for her loved ones. #RIPSushmaSwaraj
Ranganathan Madhavan ( R Madhavan): RIP #SushmaSwaraj ji.. one great leader who proved that you could could be hold the top position in a Ministry and still be hands on in solving issues of the common man real time.Your dedication to attending to all the Appeals meet you on social media is exemplary and legendary.
Shreya Ghosal: Deeply saddened by the news of #SushmaSwaraj ji's passing away. She was truly a dedicated compassionate leader of our country, respected and loved by all. It's a big loss for us.
Ajay Devgn: Devastated with the untimely demise of Sushma Swaraj ji. A dynamic and an inspiring leader. Immense loss to the nation! May her soul rest in peace. #SushmaSwaraj
Juhi Chawla: Spoke to Sushmaji recently....am so glad I told her how much I admired her... May her soul rest in peace... #RIPSushmaji
We also got our hands on a video where Prime Minister Narendra Modi, who came in to pay his last respects Sushma Swaraj, was seen getting emotional. Watch the video



Images Source: newsjuzzy.in