Taapsee Pannu's Counter-Reply To Rangoli: "Kangana Is A Great Actress, Being Her Sasta Or Mehenga Copy Is A Compliment"- EXCLUSIVE
Taapsee Pannu has been bagging limelight since a few days, courtesy her upcoming film, Mission Mangal and a bit of it can be attributed to Kangana Ranaut and her sister, Rangoli. While we recently caught up with Taapsee for a chat over coffee, talking about the film, her upcoming projects and more, we also touched base with the (in)famous topic. SEE THE VIDEO BELOW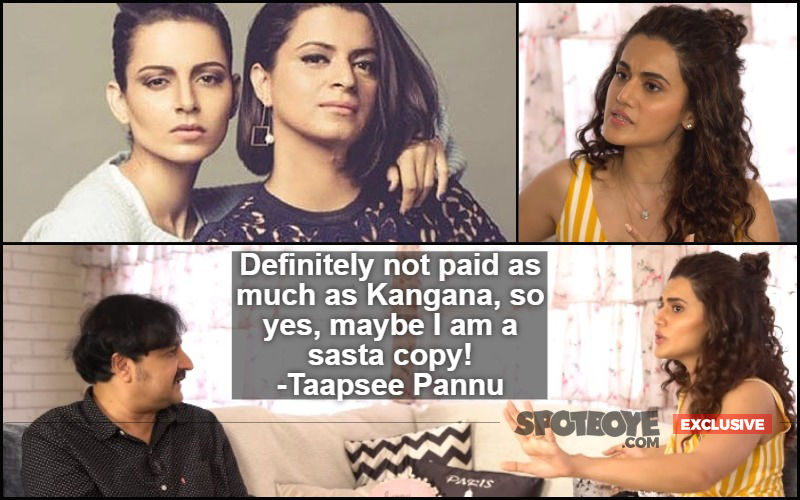 She is frank, doesn't like shying away from expressing her views, if asked. Taapsee Pannu is not someone who minces her words to put across her thought, loud and clear. We met with the actress, at her Andheri plush flat for a cup of coffee and a candid chat, on her upcoming movie, Mission Mangal, other projects like Saand Ki Aankh and more.

Taapsee's home, on the 12th floor, was quite airy, and while she chatted with us, we couldn't ignore the "air" of controversy around her of late, courtesy Kangana Ranaut and her sister, Rangoli. For those who are not updated yet with it, here's a quick recap- Rangoli addressed Taapsee as Manikarnika actress' sasti copy when the
Pannu did not, in particular, name Kangana while appreciating her film, Judgementall Hai Kya trailer
, a few days back.
Cut to Taapsee's comfortable couch and we ask her all about it. She readily answers the question but doesn't forget to add her touch of humour to it before shooting off and says, "Let's give this some more publicity (laughs)."

Taapsee begins to talk by saying that she doesn't know what provoked the entire controversy but if it comes to validation, she has a complete different take on it. "For many of my films, no matter how they have done, critically or commercially, I haven't got validation either from her or from anyone else. I don't crib about that because my validation is coming from people who are paying to watch my films. I want validation only from them. In fact, I don't even want to be considered for any awards. I want my film to be a box-office success," Taapsee says in a stern voice.
So, does she feel people should stop yearning for validation from colleagues? Taapsee replies, "Absolutely not! To each his own, I am nobody to give anyone any advice, I don't even tell my sister what to do or not to do. This is my thought process that my validation comes from people who come to watch my films, not from the ones who merely have blue ticks on their social media accounts. How many of them validated me for Badla, but it still collected a lot of money."
We then come straight to the comment
Rangoli posted where she addressed Taapsee as Kangana's "sasta" copy
and Pannu has an extremely candid reply to it. "If she thinks I am a copy of Kangana in any way, sasta or mehenga, I take it as a compliment because she is a really good actress. Maybe Rangoli said 'sasta copy' because according to her, Kangana is the highest paid actress today, so in that reference, I might be a sasti copy because definitely I don't earn as much as she does," Taapsee quips.

So, what happens now? What if Taapsee bumps into Kangana, at a social gathering? "I will be courteous enough to say 'Hello'. Life is too short to hold a grudge. I don't even have it against people who took away my films overnight." Taapsee puts across her point boldly, with a warm smile intact on her face.


Image Source:- instagram/taapsee