Tanushree has taken the legal recourse and wants to put Nana Patekar, Ganesh Acharya, MNS Party Workers, Rakesh Sarang, Samee Siddiqui in the dock. A few ago she was seen at the oshiwara police station complaining about the above named. The complaint reads: I, Tanushree Dutta, aged 34 Year, Residing at above mentioned address along with my family members. I hereby lodge my complaint for registration of FIR under section-354, 354(A), section-34 and section-509 of IPC (Indian Penal Code) against Nana Patekar, Ganesh Acharya, producer Samee Siddiqui, director Rakesh Sarang and MNS Party Workers.
I am in this film industry as an actress since 14 years. From, 23th March-26th March 2008, I was shooting for a song in the film "Horn Ok Pleaseee" at Filmistan Studio-3, Goregaon West. The song was choreographed by Ganesh Acharya, the director of the movie was Rakesh Sarang and producer, Samee Siddiqui and actor Nana Patekar.
This song was supposed to be a solo song picturised on me only. Nana Patekar having only one line in the entire song, which was not a part of my choreography rehearsals which took place on 17th, 18th and 20th March 2008 at Shrique Hall under the supervision of choreographer Ganesh Acharya. Before the shoot, I had clearly mentioned that, I will not enact and/or perform any lewd or vulgar or uncomfortable steps in the particular song. On the 4th day of the shoot, 26th March 2008, while the shoot was going on Nana Patekar's behaviour was inappropriate towards me. He was on the set despite his work in the song being over and he was grabbing me by the arms and pushing me around on the pretext of teaching me how to dance. When he was touching indecently and unnecessary then I felt very uncomfortable because of his behaviour and I felt he has outraged my modesty I felt embarrassed. He told the choreographer and the other junior artists to back away so that he could teach me the dance steps even though he was not the choreographer and he was not required during the choreography as per my previous rehearsals. This behaviour was not natural and I did not feel comfortable about it. And his part of song was supposed to be performed by him alone and according to producer and director it should have been done on the very first day of shoot i.e on 23rd March, 2008.
I complained regarding his behaviour to the producer, director and the choreographer on the same day. I was hoping that they would communicate and take some action. They also assured me that everything will be fine, but an hour or so later when I was called back on the set from my van for rehearsals, I was informed choreographer Ganesh Acharya that new steps have been added in the dance sequence which were intimate and included Nana Patekar touching me in an inappropriate way. After I refused to do the steps, I was being forced and pressurised by the producer, director and choreographer to perform these new additional inappropriate dance steps while Nana Patekar was still on the set and was aware of the conversation and the problem going on. At this point of time because I refused to perform the dance steps as I was not comfortable with steps, same time I was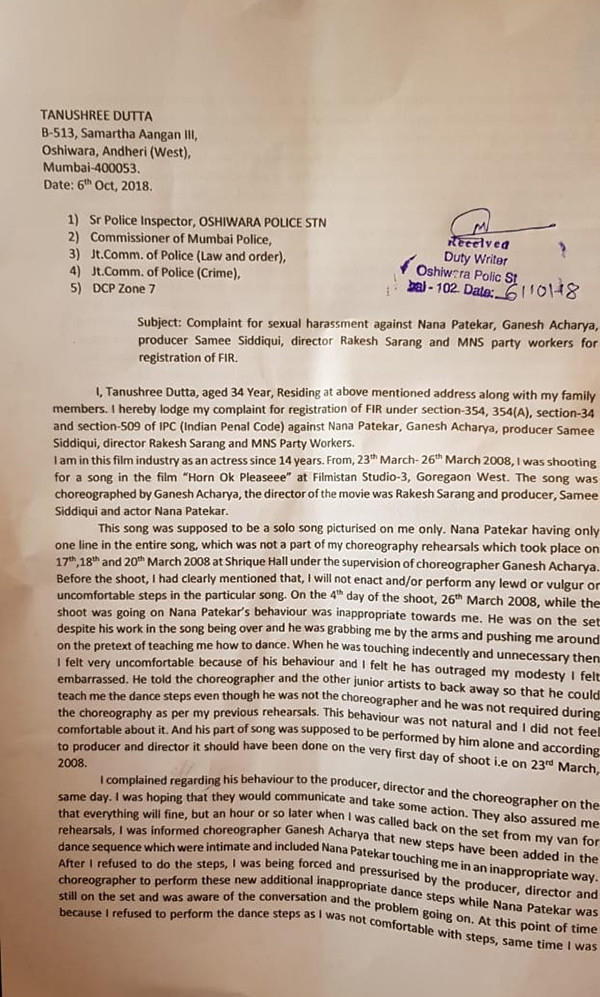 Copy of Police Complaint

When contacted, senior PI, Suresh Pasalwar told SpotboyE.com, "We have received the written complaint copy and we are inquiring, however no FIR has been registered yet."


Image Source:- Businessrecorder,dailyhunt,busy,instgaram/@iamtanushreeduttaofficial/@nana.patekar