Tanushree Dutta-Nana Patekar Sexual Harassment Controversy: Priyanka Chopra, Farhan Akhtar, Richa Chadha & Swara Bhasker Come Out In Support Of The Actress
Tanushree Dutta is gradually getting support from the industry. Celebs like Farhan Aktar, Priyanka Chopra, Richa Chadha and Swara Bhasker have gone on social media and supported Tanushree. Here's what they had to say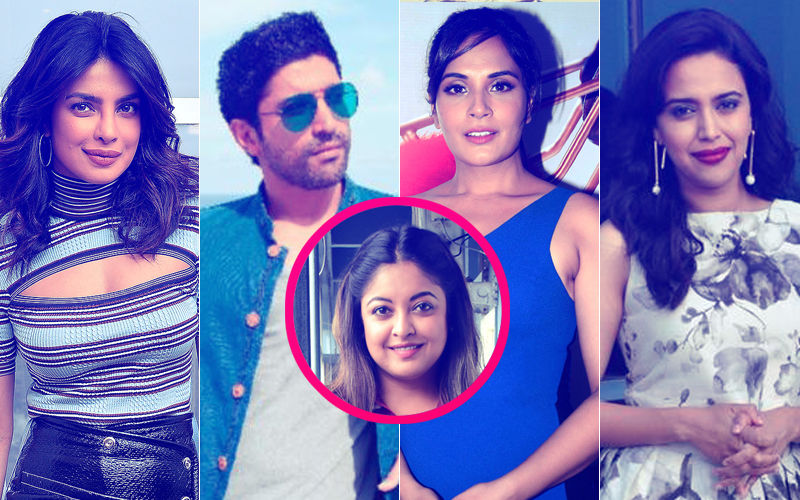 Tanushree Dutta has been making headlines since the past few days after she accused Nana Patekar for sexually harassing her in 2008 on-the-sets of their film, Horn 'OK' Pleassss. The team of the film in question is supporting Nana Patekar and refuting all claims. However, Tanushree is getting support from the film industry. Stars like Farhan Akhtar, Priyanka Chopra, Richa Chadha and Swara Bhasker have come out in support of Tanushree on social media.

Yesterday, we had reported to you about journalist Janice Sequeira- a witness to the incident. In a thread of tweets she narrated the whole incident as she saw it on the sets happening right in front of her. Her twitter thread was shared by Farhan Akhtar, who in support of Tanushree wrote, "This thread is very telling. @janiceseq85 was there at the time of the incident being debated today. Even when #TanushreeDutta had career concerns to keep quiet 10 years ago she did not & her story hasn't changed now. Her courage should be admired, not her intention questioned (sic)."
Priyanka Chopra retweeted Farhan's tweet and along with it wrote, "Agreed...the world needs to #BelieveSurviviors (sic)."
Richa Chadha too took to social media to lend her support to Tanushree. She tweeted, "It hurts to be #TanushreeDutta rn. To be alone, questioned. No woman wants publicity that opens the floodgates of trolling and insensitivity. What happened to her on set was intimidation.Her only fault was she didn't back down-takes a special courage to be #TanushreeDutta (sic)."
Swara Bhasker also came out in support of Tanushree. Sharing a video interview of Tanusree, Swara wrote, "#IBelieveYouTanushreeDutta (sic)."
Tanushree spoke up about the whole sexual harassment incident in an exclusive interview with SpotboyE.com Editor, Vickey Lalwani. She opened her heart out during the chat and said, "Fathers don't ask daughters to do intimate scenes with them. You should be ashamed!"


Image Source: xossip, seenit, elle, enimex, Viral Bhayani