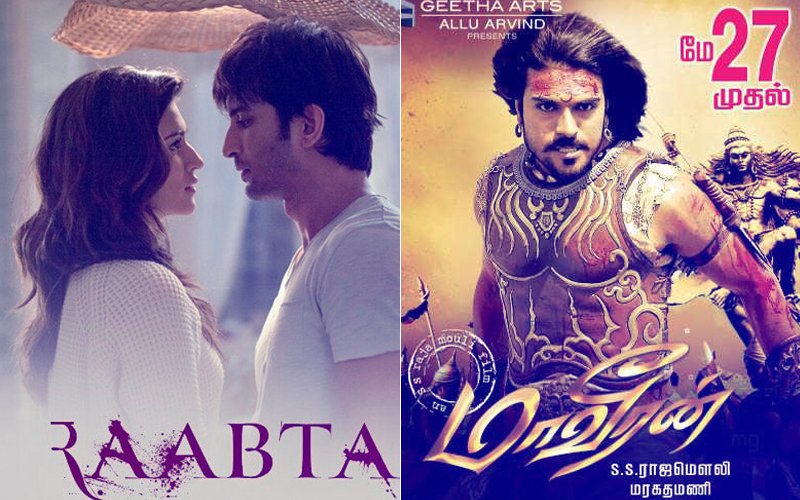 Your browser does not support the video tag.
Good news for
Sushant Singh
and
Kriti Sanon's
fans as the makers have won the case against Magadheera filmmakers. Raabta will release on its scheduled date, June 9.
Raabta is having its share of controversies
even before its release. When the trailer of the Sushant Singh Rajput and Kriti Sanon-starrer released, fans started posts and memes which suggested that Raabta bore resemblance to Telugu film Magadheera.
Makers of Raabta cited several differences in the script and storyline of the two films. Their lawyers argued that the background of the lead characters, their storyline development, villain's role, foreign locations and most importantly the finale of the film is completely and materially different from Magadheera.
They also pointed out that the concerns of Magadheera's makers that the iconic 100 warriors scene has been lifted in Raabta is completely unfounded as there is no such scene either in their film or the trailer. They said that in their film, unlike Magadheera, the villainous character was in fact an anti-hero and a parallel interest point for the heroine. Even in the back story depicting the past life of characters, the hero of the film actually plays a negative character for most part.
Raabta makers also pointed out a few similarities, which were purely based on themes that are generic to every film made on reincarnation of two lovers such as Prem, Hamesha, Om Shanti Om, Kudrat etc. In fact, the makers cited a list of more than 100 films on the theme of reincarnation.
When contacted, Ankit Relan, lawyer for T-Series said, "We have filed the entire script of our film along with a comparative chart showing how the two films are completely different in the their story, treatment and expression, something that the plaintiff ought to have done in the first place as part of his pleadings to show comparative similarities. Neither was any such similarities pointed nor has the plaintiff filed their script for the judge to make a comparison. The entire suit, which has been filed at the eleventh hour despite the trailer coming out more than six weeks ago, is based on conjectures. We can't understand how a film of over 2.30 hours in duration can reasonably be compared with a trailer of around 2 minutes to jump to a conclusion of Copyright infringement. We even offered to show the entire film to the plaintiff as far back as on 17th of last month itself, to which the counsels for plaintiff responded only on the midnight of 30th May, 2017 - one night before the next hearing, stating that the reply was left lying with the watchman of their building all this while. They rejected the offer to see the film, of course."
Well, now that the verdict is in Raabta's favour, the team can surely party before its release.


Thumbnail Image Source: instagram/raabtaofficial & southindianstars