His live-in girlfriend Neeru Randhawa landed up in hospital with a severely bruised face
after he assaulted her, some months back. And now, another lady- Nadia Aheli- is at the rough end of the stick. And yeah, another police complaint has been filed against him. Armaan Kohli is at his worst behaviour again. A few days ago, we even brought you some EXCLUSIVE stories on how
his staff (cook, driver) have deserted him
and how
he urinates outside Rani Mukerji's bungalow thinking that he is avenging Rani's Tanishaa having walked out on him.
When contacted, Nadia told SpotboyE.com, "Well, I have lodged a FIR against 3 people- Armaan, his friend Dilip Rajput and his servant Nitin. Armaan and Rajput made some unreasonable demands to me and I had no option but to complaint." Prodded further, Nadia said, "Armaan and Rajput had taken Rs 50 lakh from me, and they refused to return. When I insisted that I need my money back, they started threatening me and even hurt me physically."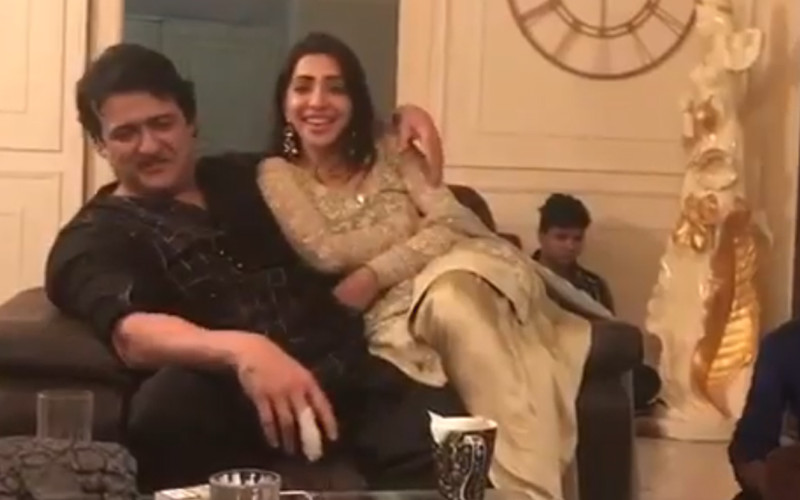 Armaan And Nadia
Nadia also revealed that she had travelled abroad with Armaan and Rajput, and when we asked if she was in love with Armaan, she said, "Well, you are asking some very personal questions. Okay, I would say that were friends for sure."
SpotboyE.com however has an EXCLUSIVE VIDEO of Nadia sitting very close to a visibly drunk Armaan, wherein Armaan is seen singing songs and Nadia is aaram se sitting with him, looking very fondly at him.
So how does this servant Nitin come into the picture? "Well, Nitin used to come to my house in the middle of the night and say that Armaan was asking me to come over."