The other day, Kajol and Ajay Devgn's daughter Nysa was mercilessly body-shamed for her airport look. A few hours back, A R Rahman was told that he had compelled his daughter Khatija to wear a niqab at the 10 years celebration of Slumdog Millionaire. And then of course, a couple of days back, we had Janhvi Kapoor being told that for wearing shorts, a few of them even got into a fight whether she looks her age or not. I bet these trolls are either living in the dark ages (we have been regressing in recent times, anyway), or are those who cannot (thankfully) enforce their dakiyanusi vichaar on the females in their house and hence are desperately looking for an outlet to vent their anger. Who gives the right to trolls to decide what one should wear?

Imagine the embarrassment that Janhvi's brother Arjun Kapoor, sisters Khushi and Anshula and father Boney must be undergoing when they read such comments on her in social media. Imagine how we are deflating her confidence. Imagine how we are subjecting her to mental trauma. Even though she may put up a brave front and say 'I care a damn' in her interviews, the fact is that any sane girl wouldn't like cheesy personal comments on her outfit. Why can't these trolls be traced and shown their place?

Janhvi Kapoor Trolled
The attack on A R Rahman today that he is responsible for the niqab Khatija wore is the height of assumption
. Thank God, Khatija replied to clear the air.

Are we not able to handle social media? Why do we VOMIT on all the platforms? The motive of going to these platforms is to either criticise, abuse, or in general, lash out against someone or the other. Should we not say that we misuse our Freedom of Expression on the Internet to a large extent frankly be in sports, politics or other spheres?
Unfair comments on Janhvi: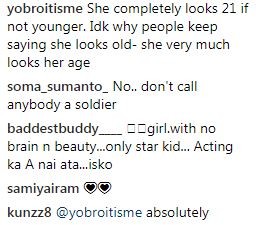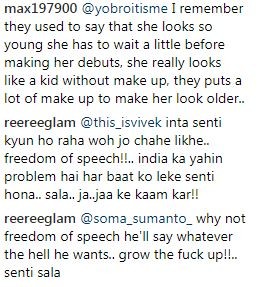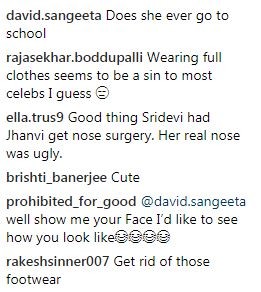 Janhvi had said in one of her interviews: "It (trolling) used to really bother me. I started self-valuing on what they would say. But then, I realised it's virtual reality. Social media can mess you up. But now, I am working on it. I am trying not to get worked up about it. Sadly, there are no repercussions. No one calls them out on it. They would never say these things to you if they met you in real life." Brave words, but we bet she still hates it and gets infuriated at the gay abandon of ethics and morals on social media.
What A R Rahman was told:
Have you ever debated over why a celebrity's daughter stood next to her dad in a cleavage poppin' bodycon, or distastefully draped saree? Did her father ask her to dress like that? Social churning and cultural conditioning much? Jokers. #freedomtochoose

— Adithi Deborah (@AdithiDeborah) February 7, 2019
This image has saddened me.. In India little girls or for that matter any girl does not need to cover her face like this. Really sad... pic.twitter.com/ni7veXeAkT

— Sunanda Vashisht (@sunandavashisht) February 6, 2019
Rahman s family with their pet penguin

— Raghav Pandey (@rghvpandey) February 7, 2019
So do you Khatija, right?


Image Source:- Instagram/insidebollywood_/manav.manglani