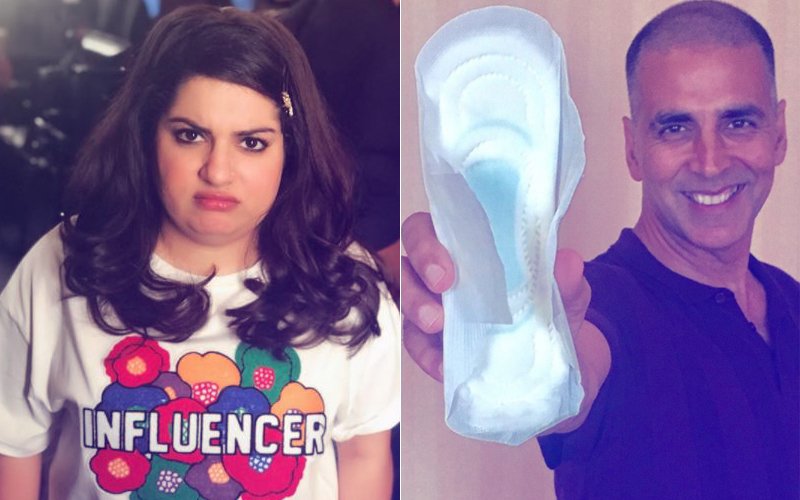 Mallika Dua grabbed eyeballs yesterday for taking a dig at Akshay Kumar's Pad Man Challenge.
She wrote, "Always remember, each time you feel weak, each time you feel lesser than your equals, each time you feel you've been made to feel lesser for no reason and that the fight has just begun...When you feel society and the govt havenot given you your due, hold up a sanitary pad and post a picture of it on Instagram. You will feel empowered. So empowered. Bye (sic)."
No sooner she put on the Insta story slamming the initiative; Twitterati had nasty comments up their sleeve and slammed Mallika for taking potshots at a 'noble'step. Check out a few comments below:
"She is velli these days. Needed an issue to remain in limelight for few days," wrote this Twitter user.
A netizen wrote, "Who is she?"

"@MallikaDua wanted @akshaykumar for some limelight., dead career revival #PadManChallenge #PadMan #MallikaDua #AkshyaKumar," wrote this Internet user.
This Internet user wrote, "Everybody trying to get famous by attacking popular faces."
"Never heard of her. BTW, who is she?" read another post.
"Better ignore, why to give free publicity," tweeted a user.
This netizen feels that Mallika needs to stop taking a jibe at people for publicity.
"Ignore they are earning from these stunts," wrote this user.
Another user said, "Both these father, daughter has gone crazy."
"Isko kisne kaha bhensi ko padman chalange kare faltu me publicity karne aa gayi bhensi Aur isko kisisne tag bhi nahi kiya faltu me aa jate he apni publicity karne @MallikaDua," read a tweet.
Let's see how the witty Mallika Dua reacts to these trolls.
Image Source: Instagram/akshaykumar/mallikadua