Atal Bihari Vajpayee Death: Former PM's Unforgettable Pictures With Sridevi And Aishwarya Rai Bachchan
SpotboyE.com has unforgettable pictures which will make you walk down the memory lane of Atal Bihari Vajpayee with Sridevi and Aishwarya Rai Bachchan, who were clicked in New Delhi on May 19, 2000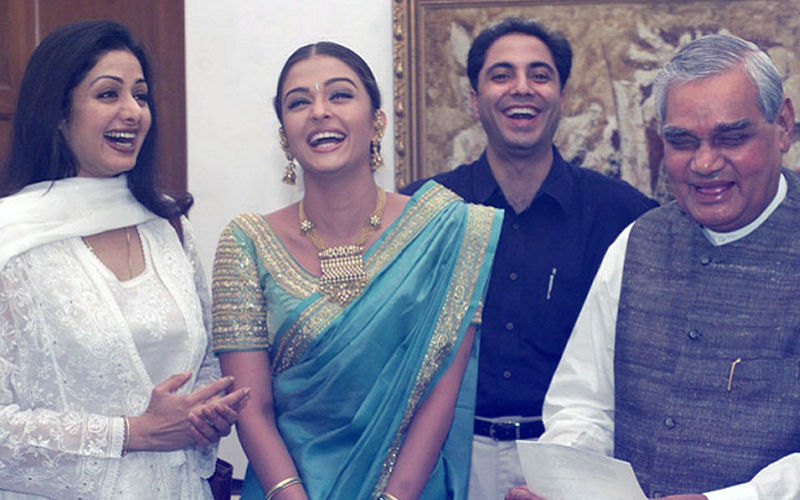 The entire nation plunged into grief, when former Prime Minister, Atal Bihari Vajpayee passed away, yesterday after a prolonged illness. SpotboyE.com brings you these flashback pictures which shows the Prime Minister with the late actress, Sridevi and Aishwarya Rai Bachchan. The pictures were taken when a group of people from the Indian film industry met Atal Bihari Vajpayee to present him with a cheque for a drought relief fund.

Many celebrities took to social media to express their grief and condolences. Shah Rukh Khan posted an emotional tweet remembering his visit to the speeches of the former Prime Minister with his father.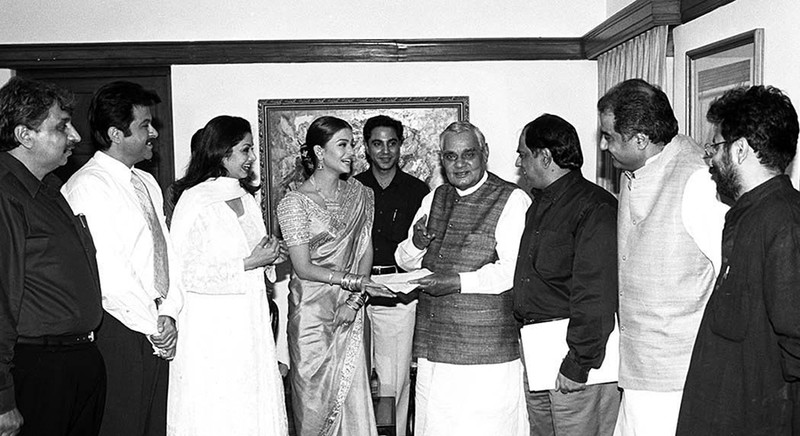 Aishwarya Rai Bachchan, Sridevi And Anil Kapoor With Atal Bihari Vajpayee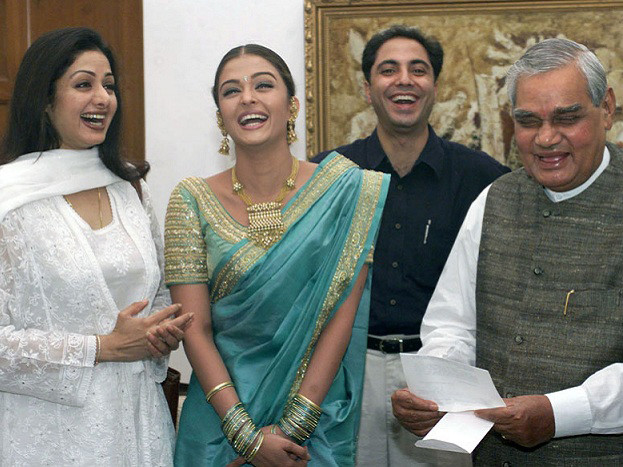 Sridevi And Aishwarya Rai Bachchan With The Former Prime Minister Atal Bihari Vajpayee

Shah Rukh Khan tweeted saying, "My father use to take me for every speech that Mr. Vajpayee made in Delhi when I was growing up. Years on I had the opportunity to meet him and spend lots of time discussing poetry, films, politics and our ailing knees. I also had the privilege of enacting one of his poems for screen. He was fondly addressed as 'Baapji' at home. Today the country has lost a Father Figure and a great leader."
He further added that, 'Personally I have lost a part of my childhood and growing up memories of learning smiling and of course poetry. I consider myself the luckiest to have had his influence on my life during my formative years. May his soul rest in peace. My deepest condolences to his family and friends. Will miss your smiling face Baapji.'
Apart from this, other members of the film fraternity like Amitabh Bachchan, Priyanka Chopra, Rajnikanth and Lata Mangeshkar also paid their tribute for the late Prime Minister.


Image Source: newsindia365 & deskgram