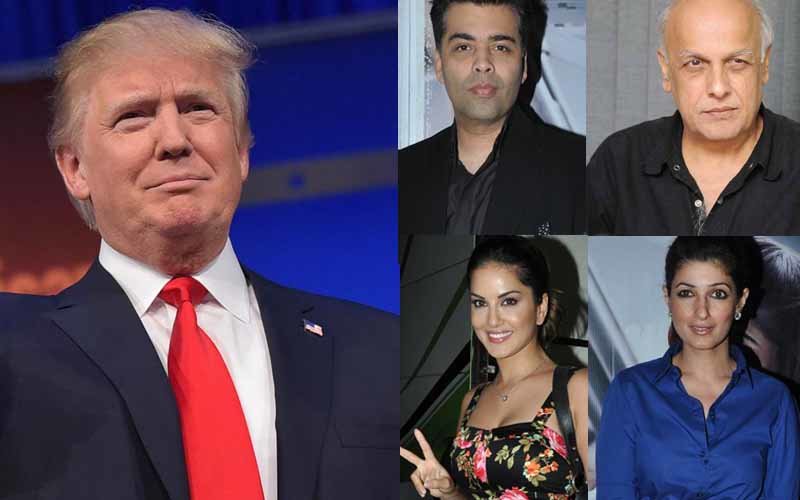 While the globe is divided in opinions about Donald J. Trump's latest victory in the US Presidential Election 2016, Bollywood is surely not happy!

A series of stars including names like Karan Johar, Mahesh Bhatt, Javed Akhtar, Twinkle Khanna, Anupam Kher, Sunny Leone and a few more have expressed their views over Trump's victory.

















Although Salman Khan hasn't tweeted anything about Trump's victory at the time of going online, he had tweeted few days before the elections supporting Hillary Clinton.




Salman Khan frequently travels to the US for his medical treatments. Other than him when the two candidates went in for the first presidential debate, actors like Rishi Kapoor and Preity Zinta tweeted about it. Preity is married to Gene Goodenough who is an American scientist, so her interest in the US Presidential Election was obvious enough!

As far as Bollywood and Donald J. Trump's connection is concerned, Trump had recently organized a Bollywood theme concert called the 'Humanity United Against Terror' in the US. It was held by the Republican Hindu Coalition and had stars like Malaika Arora and Prabhudheva attending it.

Donald J. Trump, who ran an improbable and often ugly campaign against the establishment, was holding on to small but significant leads in a series of key battleground states on Tuesday night, overturning months of polling that had given the advantage to Hillary Clinton.

The results have affected the global financial markets abroad. Asian markets are trading sharply lower, down around two percentage points, and in the United States, Dow Jones futures were down as much as 800 points in after-hours trading.

Coming back to what Bollywood thinks, well, it's doesn't come across that its a happy industry currently!


Thumbnail Image Source: Manav Manglani & urbanasian