On December 14, 2020, Vidya Balan completed 8 years of her blissful marriage with film producer Siddharth Roy Kapur. To celebrate this day, the actress travelled to Palampur for a romantic getaway but unlike other celebs who would have put loved up pictures from the anniversary celebration, she posted a video of cleanliness drive as she saw trash in the mountains when she went on a hike. She posted a video cleaning the filthy area, by picking up the trash.
She is seen picking up bottles and plastics, followed by urging people to keep surroundings clean. In her INSTA Stories, she was seen wearing a black t-shirt and bottom, and covered her mouth with a mask and wore hand gloves as she picked up the trash. In her INSTA Stories, she also thanked a certain travel agency for an amazing hike experience and their commitment to keeping Palampur clean. We must say this approach of the actress made her earn extra brownie points from her fans.
Check out Vidya Balan's INSTA Stories below-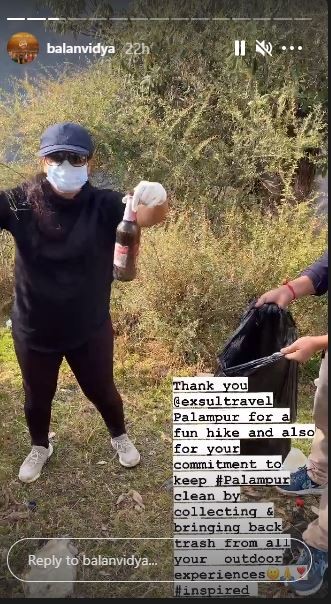 Besides giving a glimpse of the cleanliness drive, she also shared screenshots of the people who wished her on her anniversary.
Image Source: Instagram/balanvidya