Vijay Deverakonda-Rashmika Mandanna Spotted At Mumbai Airport, Rumoured Lovebirds Jett Off To Enjoy ROMANTIC Vacation In Maldives? DETAILS BELOW!
Vijay Deverakonda and Rashmika Mandanna have only collaborated on two movies so far, namely, Geetha Govindam (2018) and Dear Comrade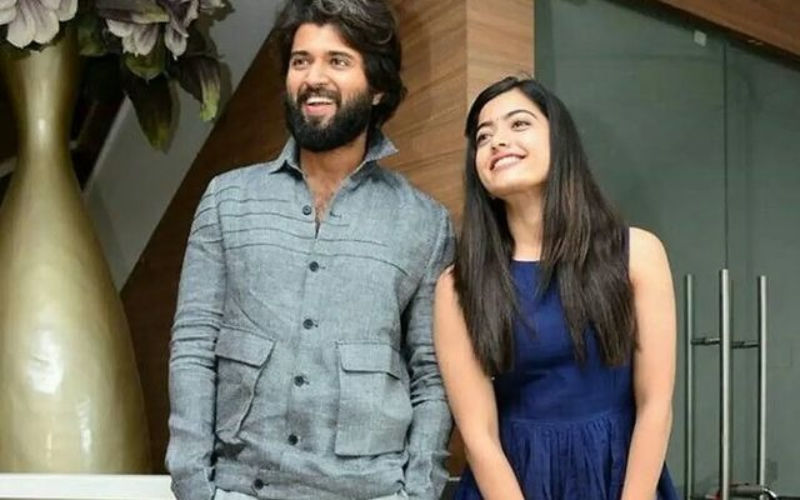 Rashmika Mandanna's Goodbye was released in theatres today, and it has effortlessly managed to get a rave response from critics and fans. Well, it seems the actress' hard work has finally paid off.

Amid all the praises, the actress has taken off for a vacation. Earlier this morning, paparazzi spotted Rashmila at the airport. However, things turned rather strange yet interesting, as the 26-year-old actress arrived minutes before Vijay Devrakonda was also spotted at the same. Buzz is that Rashmika and Vijay have taken off to the Maldives for a romantic vacation, suggests an ETimes report.
Vijay kept looking at his phone while wearing dark sunglasses, while Rashmika on the other hand engaged with the cameras while wearing no make-up and a beige outfit.
The two repeatedly denied dating and have never publicly acknowledged their relationship. Recently, Rashmika was questioned about the rumours about their romance and she erupted into laughter.
Meanwhile, during a recent appearance on Karan Johar's chat show, the filmmaker had reportedly asked Vijay about his rumoured romance with Rashmika. Using his words wisely, Vijay described their relationship as he said, "I've done two films with her at an early stage in my life. Rashmika is a darling and I am really fond of her. She is a really good friend. You share so much through films, like lots of highs and lots of lows, so a bond gets created. And generally, you get put in such close proximity very quickly that your bonds also develop much quicker. Normally, even to sit and look at a girl in the eye it would take me a while."
Sadly, Vijay and Rashmika have only collaborated on two movies so far, namely, Geetha Govindam (2018) and Dear Comrade. They've both repeatedly rejected the romance rumours that have been circulating since they first surfaced.
Image Source: Instagram