Vikram Montrose On Making Songs For Sanjay Dutt And Akshay Kumar: It Has Been A Blessing, It Took Almost 13 Years To Reach There-EXCLUSIVE
In an exclusive chat with us, Vikram Montrose talks about dedicating his composition 'Adheera' to Sanjay Dutt, 'his film Mere Desh Ki Dharti', and much more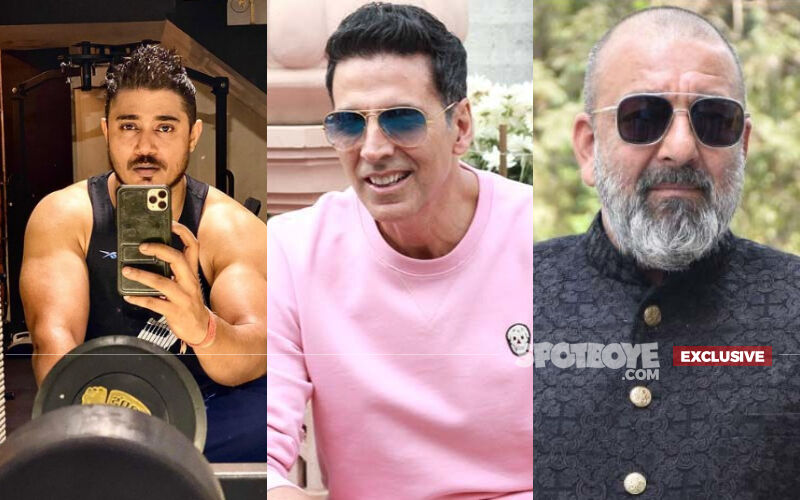 Popular Indian composer, singer and songwriter Vikram Montrose has given many hits to the industry. He is best known for his songs like 'Kar Har Maidaan Fateh', 'Baba Bolta Hai' from the film Sanju, 'Tera Baap Aaya' from Commando 3, and 'Maarkhayegaa' from Akshay Kumar starrer Bachchhan Paandey. He recently dedicated his new composition 'Adheera' to Sanjay Dutt's character from KGF Chapter 2. Right from talking about why he dedicated a song to Sanju baba, giving an insight into his social film 'Mere Desh Ki Dharti' to explaining his approach to making music, Vikram got candid with us. Read excerpts from the interview below:
You dedicated your composition 'Adheera' to Sanjay Dutt's character from 'KGF: Chapter 2', so what was an idea or thought process behind this?
I share a very personal bond with Sanju Sir. He has always believed in me and always backed me and pushed me to make my music better. Action songs are something I love doing and I was keen on making a deadly badass song for Sanju Sir and was waiting for an opportunity to do so when I saw his look in KGF Chapter 2, I just couldn't resist the idea of making a song dedicated to the aura of 'The Sanjay Dutt' we know. And that's how Adheera happened.
Vikram, what appealed to you to take up the upcoming social film 'Mere Desh Ki Dharti'? This project reunites you with Sukhwinder Singh. How was your experience of working with him?
We have seen films that deal with several important issues but rarely do they explore this topic. I come from Prayagraj and we are connected to the villages near that area. I loved our director Faraz Haider's vision, he is truly amazing to work with. And im thankful to Dr. Shrikant Bhasi for making me a part of this beautiful film. Working with Sukhwinder Sir is always a delight. He has always been kind to me. Our association goes back a long time. Our rapport hasn't changed at all in all these years.

You have composed many songs for the action genre, is this a deliberate effort to make this genre bigger?
Yes definitely. I love working in the action genre and I love experimenting with heroic and larger-than-life sounds. I feel this space is something that comes naturally to me. There is a lot of scope for music in the action genre that is unexplored and I definitely want to keep doing something new every time I get the opportunity. And the best part about making this kind of music is that whenever I hear my songs being played extensively in the gyms and people using it for motivation it just makes me very happy.
How challenging it was to create 'Maar Khayega' for Akshay Kumar's 'Bachchan Pandey'? Any interesting story behind the song that would like to share with us?

Creating MaarKhayegaa was super fun. I got the brief from our music supervisor Mr.Azeem Dayani with whom I have previously worked on the movie Shershah, the song was Jai Hind Ki Senaa. For this, we wanted to create a song as lethal and menacing as Akshay sir's character in Bachchhan Paandey. I had an idea that I played to Azeem and he instantly liked it. And then he was thoroughly involved in the making of the song and the ideas he gets on the table when it comes to the creatives are amazing. It took us a week to complete the initial draft of the song in totality. But then again it differs from song to song. Some take lesser some take more time. What takes time is the idea, the hook, and the soundscape. I want to get it right. Once I am clear about that then it's an easy ride.

How was the transition for you to work from making music for Sanjay Dutt's character 'Kar Har Maidaan Fateh' to Akshay Kumar's Maar Khayega'?
It has been a blessing. Sanju sir has impeccable taste in music. I am glad that my first movie was Sanju and my first Hindi film song was Kar Har Maidaan Fateh. You know when you start your career with the likes of Mr Sanjay Dutt and Mr Rajkumar Hirani, your half the battle is won. Though it took almost 13 years to reach there, I got to learn so much about the creative process and that knowledge will help me always. Later I met Mr Eric Pillai, he has been an inspiration to many musicians like me. The support and guidance that I got from him changed everything for me.
I wanted to do songs with Akshay sir for the longest period of time because what he gets on screen is beyond imagination and the heroism, style, swag and attitude would only be best translated by him. I am thankful to Mr Eric Pillai and Mr Azeem Dayani for making this possible for me. One great thing that happened with Maar Khayega is that now people know that Kar Har Maidaan Fateh and Tera Baap Aaya are my songs.
You have composed several blockbuster songs for A-lister actors in the industry. We would like to know what are the things you took into consideration before composing any song?
For every song, there is a different process that I try to incorporate because for me it is always the movie and the character we are talking about. I feel that the theme song always prepares the bed for a movie. The bigger and closer it is to the character and the colour of the movie the more it appeals to the masses and is better for the film. For me, composing, writing, producing music and at times singing makes it much easier, faster, and more effective. Because I only start a song when I can think of a hook and if I am totally convinced with that then I go for it.
What's next in the pipeline? Any new songs are you composing?

There is an interesting lineup in place. I am eagerly looking forward to introducing a totally different soundscape to the Hindi film music scene. There is also a different style of music that I love doing and I really want to present it to people through my own company. So yes, there are some interesting songs on the way.