Kim Kardashian Confesses Having Best SEX Of Her Life With Pete Davidson; Says She Was Down To F**k And Not Looking For Love!
Kim reminisced how she and Pete came together and shared that she just wanted to get back into the dating scene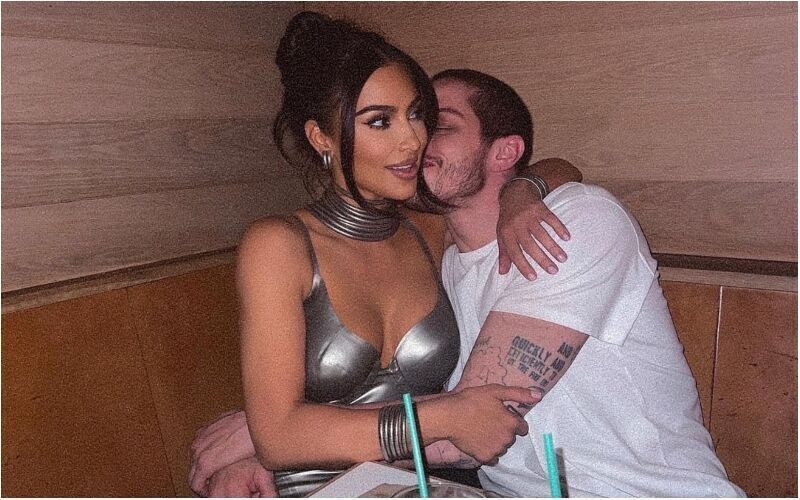 Kim Kardashian and Pete Davidson have been making it to the headlines for a long time now and the IT couple has been painting the town red with their love affair. The two started dating after their appearance on Saturday Night Live in October 21.

While their fan-following continues to soar gradually, Kim has finally revealed the truth about their relationship in the latest episode of The Kardashians. Kim has now shared the story of how she met Pete and stated that she was not looking for love and was just DTF at first.
Confessing about how she and Pete came together, Kim reminisced how they had to kiss each other once during a Saturday Night Live episode.
Kim went ahead with it, thinking that she had to try something different. Kim's after-parties of SNL are quite famous. And hence, she hoped Pete would come too. However, her hopes shattered when Pete didn't turn up.
Kim Kardashian decided to make the first move after a couple of days. She also reached out to the staff and asked for Pete's number and texted him.
Kim shared that she just wanted to get back into the dating scene and was not looking for love. The reality TV show star had been dealing with her divorce from Kanye West. Kim said that she was Down To F**k (DTF) and had heard about Big Dick Energy (BDE).
Kim said, "I wasn't even thinking like, oh my God, I'm gonna be in a relationship with him," she says. "I was just thinking, Heard about this BDE, need to get out there... I was just basically DTF."
For the unversed, Pete Davidson's reputation for his supposed BDE has been around the industry for a while now. The speculations sparked after his ex-fiancé Ariana Grande made a not-so-subtle tweet about his '10 inches.'
Well, Kanye West certainly 'did not last longer' in Kim Kardashian's life, literally!
However, after spending time with Pete, Kim's perception and attitude towards Pete and their relationship changed. It all strengthened because of Megan Fox.
Well, while Kim doesn't quite go into the same detail with specific measurements, she does in fact hint that she's having the best sex of her life with Pete.
Interestingly, Kim shared that Meghan Fox had texted her that Pete had asked for Kim's number months ago. However, she had refused him saying that she and MGK had a better shot of getting eaten by the crocodiles than him and Kim.
Kim Kardashian couldn't stop praising Pete Davidson either. She called him the best human being and talked about his humour as the fourth thing on the list of most liked things about Pete.
Well, Kim did not quite go into the details about specific measurements, she did in fact hint that she's having the best sex of her life with Pete. "When I turned 40, everyone said it's the best sex of your life," she tells her sisters. "Grandma kept on telling me, '40 is the best sex.' And I was like OK, I'm ready."
"And so far... " she trails off as she clicks her tongue and winks at the others, before bursting into a fit of laughter.
Image Source: Instagram