Vinod Khanna could never ever play second fiddle. And that's why, he could make mincemeat of the most adored heroes – Amitabh Bachchan included-- even when cast in villainous or subordinate roles at the outset of his career.

Before him, if the Pune Film Institute-trained Shatrughan Sinha could draw attention as a baddy, too, it was because of his hectoring and over-the-top style. By contrast, V.K. – as he was often called by his contemporaries – could be fire and icy with a flicker of his eyes, steel-strong dialogue delivery and a body language which spelt don't-mess-with me.

For someone who came into journalism during the mid-1970s like I did, Amitabh Bachchan and Vinod Khanna were at daggers drawn. Not in private life, not at all, but professionally, the rivalry was palpable. And this was fanned by the press. A Stardust cover story proclaiming Vinod Khanna to be No. 1 in the popularity sweepstakes, was clearly a pointer towards downsizing the Zanjeer-Deewar tornado Amitabh Bachchan.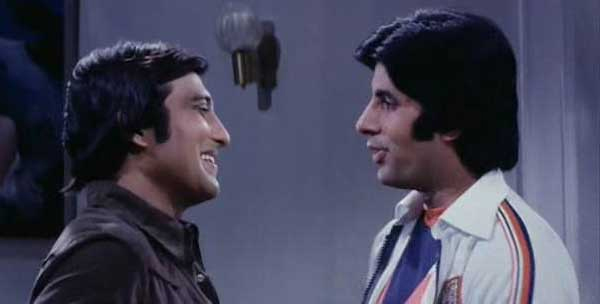 Image Source: thehook

Whether Vinod Khanna went with that, he would neither affirm nor deny. Moreover whenever I quizzed him on the Bachchan phenomenon, the actor wouldn't be comfortable. "Next question, please," would be the answer. Wise to the game of journos looking for controversy, he opted not to go that route at all.

Also V.K. wasn't given to analysing his own performances, assigning the credit to his directors. Of them, his obvious favourites were Raj Khosla, Raj N. Sippy, Manmohan Desai and Gulzar.

Sunil Dutt mentored Vinod Khanna by introducing him as a villain in Mann ka Meet. And then in the ensemble cast of Reshma aur Shera, which also included Bachchan in the role of a mute. Lore has it that Bachchan's dialogue delivery was so overpowering that his character was turned mute. This has been categorically denied by Bachchan, though.

That Vinod Khanna could kick butt and how was asserted with his films toplined by Dharmendra. Rakhwala, produced in the south, is a must-see for action buffs, particularly of hand combats or muqebaazi. And in Mera Gaon Mera Desh, Dharam saab stood helplessly, all tied up while Vinod Khanna breathed fire during the song Maar diya jaaye ya chood diya jaaye. That Raj Khosla film was a pre-cursor, quite similar in content to Sholay. But the fearsome dacoit went under-rated. Amjad Khan as Gabbar Singh became a national craze. Relatively Vinod Khanna as Jabbar Singh (the names were a faint variation, right?), went by under-rated.

Besides Reshma aur Shera, Bachchan and Khanna teamed up in Prakash Mehra's Hera Pheri and Muqaddar ka Sikandar, Desai's Parvarish and Amar Akbar Anthony, and Rakesh Kumar's Khoon Pasina.

In Muqaddar ka Sikandar, with Bachchan played the title role, Khanna may have not been assigned enough substance as the film's formal romantic lead. In the other films, however, the sparring between the two actors was akin to a champion boxing bout. If Bachchan eventually emerged the winner, it was in no small measure because of better films, better directors and more commercial successes.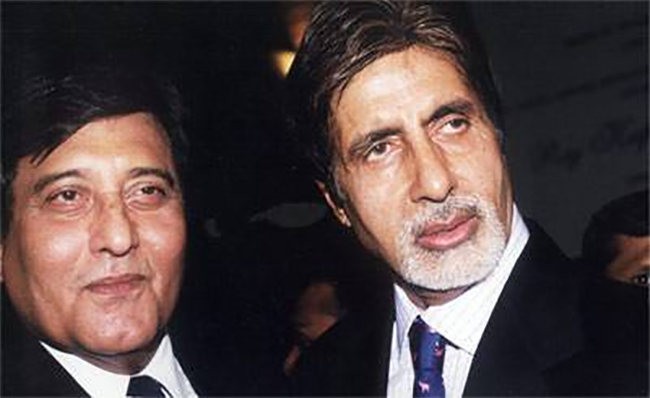 Image Source: samayam

In any case, Vinod Khanna was not in the game to prove any sort of point. He quit the movies in 1982, to seek spiritual solace from Osho Rajneesh. It can only be guessed that the complicated, competive and often soul-destroying ways of show town and personal strife motivated Khanna to get away from the madding crowd.On returning to B-town, after five years, he had to re-start from scratch.

Curiously, the Bachchan-Khanna team was never repeated again. After all, theirs just wasn't an era of a Muqaddar ka Sikandar Reloaded.


Thumbnail Image Source: vk