WHOA, Shah Rukh Khan's DDLJ Finds A Special Mention In Donald Trump's Speech At Gujarat's Motera Stadium – VIDEO
Donald Trump, in his speech during the Namastey Trump event, gives a special mention to Shah Rukh Khan's DDLJ and Amitabh Bachchan-Dharmendra's Sholay. Yes, you read that right!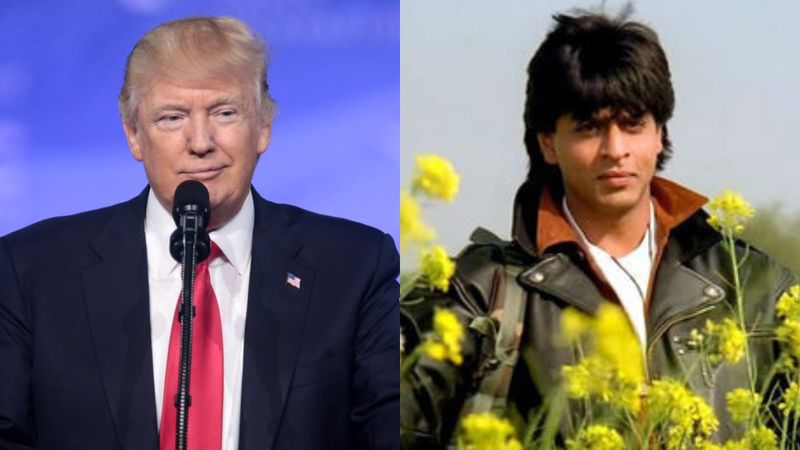 Shah Rukh Khan, naam toh suna hi hoga? Well, the superstar's missing from the silver screens, but his name finds its way to the news some way or the other. This time, however, it's a tad bit special, thanks to the US President Donald Trump. We all know that the POTUS, along with wife Melania Trump, landed in India this morning for a special trip. He was received by the Indian PM Narendra Modi, the trio then headed to Ahmedabad's Motera Stadium for the Namastey Trump event. Well, it was during his speech that the US Prez remembered the iconic Shah Rukh Khan film, Dilwale Dulhania Le Jayenge (DDLJ).
During his speech, Donald Trump thanked PM Modi and the audience for giving him such a warm welcome. And while talking about Indian films and its culture, Trump mentioned this super-iconic SRK film that is considered no less than a classic in today's time. He even mentioned Sholay in his speech. Trump said, "The people take great joy in listening to Bhangra, music, dance, romance and drama and the classic films like DDLJ and Sholay." Well, as soon as Trump took these Bollywood films' names, the crowd went crazy and started whistling and hooting.
Interestingly, Donald Trump also acknowledged some great Indian cricketers like Sachin Tendulkar and Virat Kohli. He added, "This is the country where your people cheer on the biggest cricketers, from Sachin Tendulkar to Virat Kohli, the greatest in the world."
Take a look:
image source: pinterest, Gage Skidmore