'Jawan' Movie REVIEW: Shah Rukh Khan Shows Who's The BOSS With This Massy, High-Octane Actioner-READ BELOW
Directed by Atlee the film features Shah Rukh Khan alongside, Nayanthara, Deepika Padukone, Priyamani, Sanya Malhotra, Riddhi Dogra, Girija Oak and Sanjeeta Bhattacharya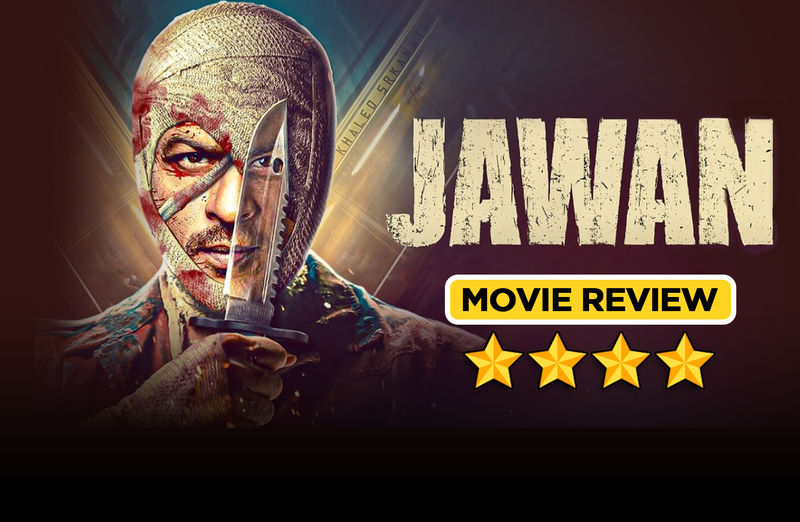 The drought in Shah Rukh Khan's career has finally ended, and Jawan marks SRK's 'Rebirth'. Moreover, the superstar's impressive charm leaves no room for error! However, it's all about the human errors. Despite the actor's command over his craft, the film falls short in a few places, yet it draws the right emotions in all quadrants of the film.

Directed by Atlee the film features an ensemble cast with a gripping storyline, topped with heavy and hearty dialogues which keep you hooked to the screen. While some scenes appear to be a bit dragged, the film will still leave you longing for more.
Written by S. Ramana Girivasan, the film amalgamates the typical formula of South Masala films which comes with a series of plot twists and non-linear storyline. Writer-director Atlee introduces Shah Rukh Khan in an all-new avatar - rough, tough, gritty yet not without his impeccable wit. He definitely deserves a pat on the back for bringing back the superstar's long-lost charm on the big screen with his visionary direction and unblemished approach towards any character in the film.
Right from the start to the end, SRK's latest release is a double treat and Jawan is proof, he can do it all! From heroic and jaw-dropping entry scenes to the fights and dance numbers, there's not a scene in which Shah Rukh loses his character. Nevertheless, a few sections can be quite off-putting as the superstar seemingly tries to imitate or maybe compete with the South Superstars like Vijay, Rajinikanth, Surya, and a few others.
Given the amount of action SRK has done in Jawan, it appears that Pathaan was a mere teaser. Director Atlee has made sure he doesn't disappoint the fans or the audience in his Hindi directorial debut, as he blends all the elements of commercial cinema to build a massy entertainer.
Packed with an ensemble cast, the film might seem like a male-dominated actioner, however, the makers have done a commendable job while adding a slew of staunch female actors who flawlessly perform all the action sequences.
The high-on-woman power film features all the unrealistic stunts, yet, it's still a delight to watch Deepika Padukone, Priyamani, Sanya Malhotra, Riddhi Dogra, Girija Oak and Sanjeeta Bhattacharya, come together on screen for one blockbuster.
Nayanthara brings freshness and is greeted with a slo-mo shot each time she comes on screen. However, her chemistry with Khan is totally average.
Sadly, the addition of SIX songs can be easily frowned upon. The nearly 3-hour long film dedicated approximately 25 minutes to the songs itself and surviving them can be really difficult.
Jawan mixes everything that makes for an engaging and entertaining watch. Talk about commercials, masala potboiler with action, drama, song and romance and Jawan has it all in abundance. If you want to enjoy this film, try not to apply brains, however, it is highly suggested that you keep your senses sharp as the film does highlight a few important topic.
The actioner narrates a compelling tale of prevalent corruption at various levels in the system that affects the common man in the most brutal ways. Thanks to Atlee, the film does not get preachy and it introduces a social commentary zone for a while, especially for Shah Rukh Khan's monologue towards the end.
Well, the fun doesn't end there!
Vijay Sethupathi effortlessly matches SRK's stardom, serving his own charm and gravitas. In his young as well as an elderly avatar, Sethupathi doesn't let go of the fear he evokes with his presence. His aged avatar is nothing less than the aged sigma-male anime characters and his confrontation scene with Vikram ahead of the climax is very well written.
In conclusion, Jawan is consistent with the top-notch and intricately choreographed action that offers an absolute cinematic experience. Interestingly, the film also switches tone from being an actioner to a lighter tale and such variations are often highly applauded by fans.
RATINGS: 4/5 (****)