Cirkus Movie REVIEW: This Ranveer Singh Film Is Only Gullible For Its Carnival Vibes! The Rest Of It Is A Painful Circus Of Flaws With Jokers, Literally!
This Rohit Shetty directorial stars Ranveer Singh, Varun Sharma, Pooja Hegde, Jacquline Fernandez, Johnny Lever, Sanjay Mishra and others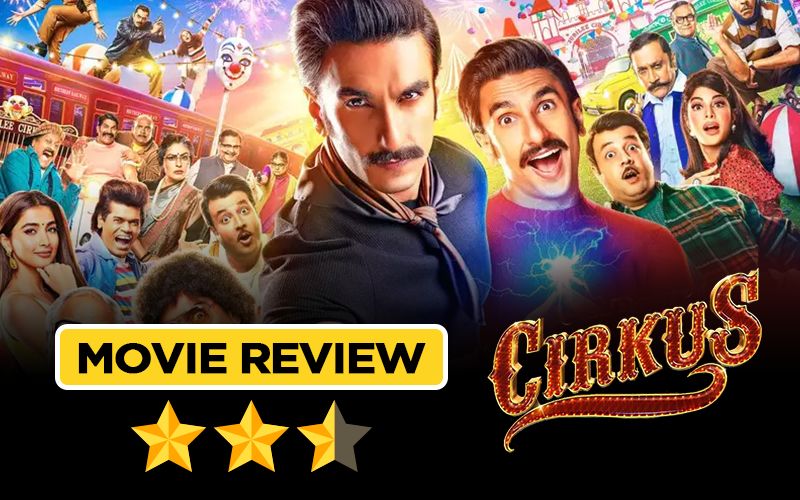 Rohit Shetty effortlessly manages to break the laws of physics and this time he has even managed to slay logic and comedy. Agreed, comedy and logic do not go well together, but not necessarily; that might not be the case every time.

Without further adieu, let us dive into details and understand the errors committed in this Ranveer Singh starrer. Make sure you fasten your seat belts, this might get a bit excruciating, and if you have already booked the tickets, all the best to you!
Set in the backdrop of 1942, the film's premise is wearisome and a bit dragged right from the start, as Murali Sharma who plays the doctor in an orphanage, swaps Roy and Joy's identical twins (the twins are also named Roy and Joy, how hilarious!) as a part of his social experiment. Well, that might sound selfish and quite an irresponsible act, but who cares. As they grow up away from each other, in different cities - at this point even the makers seem to have lost the track of all the years - the twins emerge successful in their own lives.
While Roy turns out to be an electric man, his twin brother is tormented by electrifying stunts. Varun Sharma aka Joy, was only cast to be his brother he turns out to be a mere side character that has been totally wasted.
The film was literally blessed with a stellar star cast and if the writers Farhad Samji and Yunus Sajawal seem to have hardly put efforts into crafting the characters of this film. Shetty had the kings of comedy at his disposal and he still managed to overuse the actors with the same repetitive comic scenes star cast and the same punchlines, not to mention he could hardly use them in his comedy of errors. Honestly; repeating a scene twice still might get you some giggle out of the audience but, using the same comedy scenes over and again is a bit far stretched.
The film is heavy on the confusing plot line. The first half features Murali Sharma breaking the 4th wall, and all of a sudden he stops his antics. Well, they could have at least kept his communication with the audience a bit constant until the very end. Apparently, the film appears to be nothing but a brainless comedy and meme material for the netizens as this comedy is all about degrading someone's looks. Calling a bald man 'human lollipop' definitely ain't comedy.
With the evident bad VFX and animations, followed by the horrendous babies and the poorly designed sets, the film already lacked substance and it appears to lack visuals as well.
The 138-minute mind-numbing drama could have been avoided if the doctor hadn't swapped the babies in the first place.
Unfortunately, the makers couldn't do justice to Pooja Hegde aka Mala and honestly, she could have done better, but she was overshadowed by bad character design and dialogues.
However, Jacquline Fernandez aka Bindu, on the other hand, did her best with what was expected of her! She looks fabulous as the doll face and daddy's princess with her costumes and dance numbers.
Incidentally, the hype around Deepika Padukone was quite understandable and she literally rocked the theatre with the dance number.
But, the question remains, was it worth it? NO!
Cirkus' flaws outnumbered its positives and with hardly any room to breathe in the cluttered mess, actors like Varun Sharma, Sanjay Mishra, Siddharth Jadhav, Johnny Lever and others hardly managed to make an impact. The painful plotline, brainless comedy and lack of substance haunt you throughout the film and there's hardly anything left to anticipate in his brainless comedy.
RATINGS- 2.5/5
Image Source: Instagram