Let me tell you right at the start that I won't be giving a rating per se to the movie because it's just not applicable. Yes, it's THAT kind of a film.
If you were one of the few hapless souls who had the misfortune of sitting through the first part of MSG, the second one is twice as much fun. Gurmeet Ram Rahim Singh Ji Insan returns as Messenger of God with such insurmountable powers that Rajinikanth, Sunny Deol, Salman Khan and Tony Stark will look like struggling interns in the MSG school of (Super) Insan-ity.
You got what? Army men? Fighter jets? Crazy swords and sharp arrows? You got what, I ask? You'll unleash a snake? Manageable. You'll hit him with a rocket ? Kids stuff. You'll send rocks sliding down mountains? Big bloody deal! The best part about MSG is that he doesn't seem disturbed by these seemingly life-threatening and potentially fatal attacks.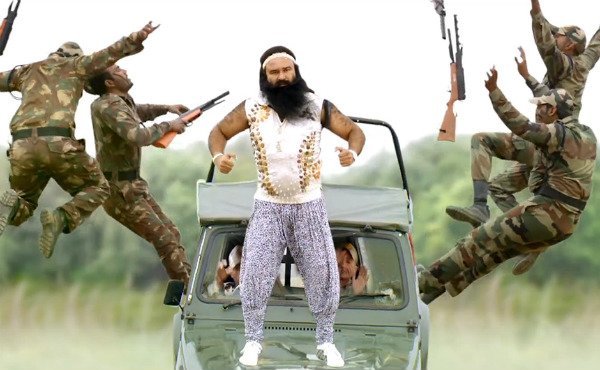 He calmly smiles so the camera can zoom on his eyes. That Baba Ramdev-ish face is so reassuring that if I were a bullet, I'd shoot myself. But that's not allowed. Like Ram Rahim tells a dude who's on the verge of suicide, "Khud Ko Na Maar...Usme Hai Teri Hi Haar." I'm not sure he really said that, but he looks like someone who'd say this.
After every minor accomplishment (like covering the sky with a bullet-proof layer, not much) Baba needs to chill. So Baba gets the babes to dance while he sings songs he composed and wrote. He wears clothes he tailored himself and drives a car which has its heart in the right plate (the number plate, get it?). In fact, I was surprised to not find him in the projection room of the theatre, playing the movie which he's written and directed.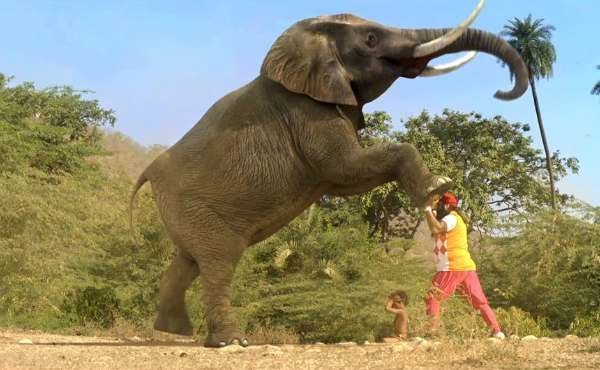 As far as his cause is concerned, he insists you give up alcohol, smoking and meat. He can see your insides through his eyes. And somehow, nobody finds that creepy. But the bigger issue is humanising adivasis, who according to his followers, are "Na Jaanwar, Na Insaan."
According to the government, they are terrorists who eat sheep.
However, these causes are secondary. The point is in the sartorial. Wearing clothes that look like they were stitched together from the leftover cloth of Sridevi's and Rekha's collective wardrobe, Baba never forgets to flaunt his curls. Only difference that the curls are on his arms. How cute.
On a serious note, the film, which projects Ram Rahim as an all-pervasive Almighty, who can do no wrong and won't do any wrong, sends out a misguided message to the naive movie-goer. And where I watched this, there were enough people who looked sold at this idea of a God-Man. (There were a few who DID order chicken sandwiches, which was slightly comforting).
While most would look at this as a guilty-pleasure exercise (and that's precisely what it is), make no mistake. The film isn't targeted at those. For all its obvious tackiness, there is a strong propaganda to sway the opinion of the vulnerable and expand the cult. In that sense, it's fictional as far as the supernatural is concerned, but MSG the character and Ram Rahim are the same people. Propaganda at its worst.
My favourite line from the film? When MSG tells a vampire-like villain, "Logon ka khoon choosna band karde...Isme koi dhanda nahi...." The vamp-man, of course, says, "Chod diya...chod diya!"
I'm sure, somewhere far away, Robert Pattinson is listening...
They say the best things in life are free! India's favourite music channels 9XM, 9X Jalwa, 9X Jhakaas, 9X Tashan, 9XO are available Free-To-Air. Make a request for these channels from your Cable, DTH or HITS operator.