While books, and literature in general are restricted to the educated, cinema as a medium doesn't ask for a prerequisite ability to be understood. Open to interpretations, the form is perhaps the strongest tool in swaying its viewers, educated or otherwise.
It is this inexhaustible realm of movies from where Ajay Devgn's small-time cable operator Vijay Salgaonkar (a chauthee fail gawar, in his own words) gathers knowledge. Innumerable hours are spent in front of the television watching all sorts of courtroom dramas, crime sagas, semi-explicit content and murder mysteries.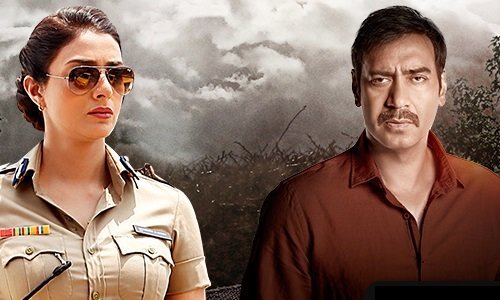 But Vijay isn't merely watching. He's collecting greater insights into the psyche of characters on screen and systematically converting these insights into an in-depth understanding of human behaviour.
His family which includes his wife (Shriya Saran) and two daughters, one teenaged (Ishita Dutta) the other much younger, had never imagined that one day, all those seemingly wasted hours will collectively help them get away with murder; all under the pretext of "saving the family."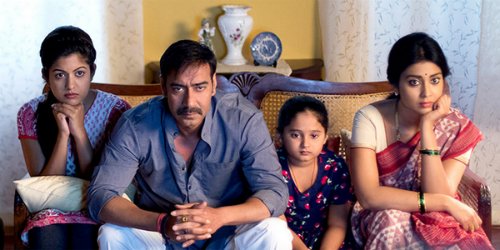 But is Vijay really doing it to defend his family? Or is that too a facade used to manipulate viewers into rooting for him? His emotional reason, that of an unfailing commitment to protect his family from going to jail, partially justifies the cover-up and even makes you want the cops to take a misstep, deviate and fail.
It's an unbelievably addictive set-up that practically leaves you on the edge-of-your-seat almost till the very end despite the film's lengthy run time. Despite writer Jeethu Joseph's claim that the film is based on an "original story," it is obvious that the blueprint is borrowed from Keigo Higashino's Japanese novel The Devotion Of Suspect X, a book I've read and re-read.
In the book, a single mother who lives with her daughter ends up murdering her abusive husband, an act that is elaborately covered up with the help of their neighbour, who is infatuated by her. Here, it's Ajay's character doing exactly what the neighbour does for a crime that is committed by his daughter and wife in a fit of rage. Original story, Mr. Joseph?
The film has the fiery Tabu as a top-cop who is also related to the victim. She's exceptionally stunning in every scene, impassive and stern, her raw energy matched by the occasional vulnerability that is displayed with great gravitas. Her high-pitched cop is contrasted by Devgn, who underplays and internalises. His eyes tell those hoping for a confession that he's manipulating them, but he's manipulating with such determination, you want to believe his manufactured reality for real.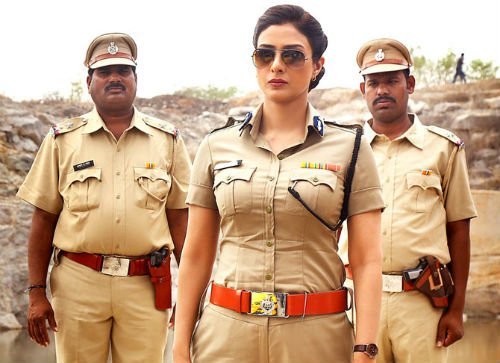 Rajat Kapoor as Tabu's husband stands out as he appears frustrated, helpless, worried and angry all in equal measures. Returning to Bollywood after a longish absence, Shriya looks beautiful as Vijay's wife and is effective in portraying the emotions of fear, anxiety, confusion and eventual relief.
The cascading background score gets as irritating as the outdated slow-motion shots, both of which have been created to increase tension in sequences. However, it is quite difficult to understand why the makers would succumb to over-the-top dramatic techniques in what is already an engaging cat-and-mouse game with crumbling alibis.
The film, shot by Avinash Arun of Killa and Masaan fame, looks boringly moribund and there aren't any scenes that inspire tension for their visual brilliance. It's all in the writing.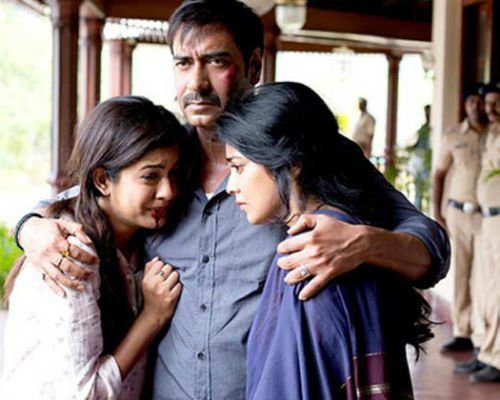 Except for one shot at the end where a body is being dug out but instead of the remains or whose body it is, you only see the expressions on the faces of four characters and the camera lingers on even as your stomach churns in anticipation of the unknown. Such sporadic moments are sure to keep you hooked.
For them alone, Drishyam is unmissable.