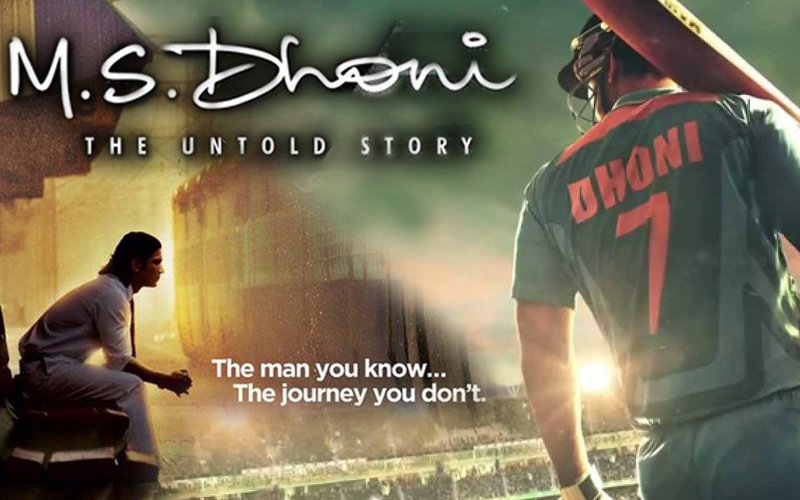 It's a no-brainer question actually. So what's common between hockey, boxing, wrestling and cricket in the movies? An underdog who becomes a supreme achiever, of course.

Be it in Holly-Bolly-or-Goodgollywood, sports movies celebrate the pup who rises above the miscellaneous odds-'n'-sods to become an er..legend (many of those going around nowadays). Plus biopics have an inbuilt disadvantage, you know the drift already. Now it's up to director-co-writer Neeraj Pandey to deify our cool captain with M S Dhoni: The Untold Story.

Untold? Quite debatable that. No newsy, startling revelations and private life insights here --unless you count those rapturous romantic interludes with Mrs Sakshi Dhoni and asides about a former girlfriend. Like it or not, these are a must for the mushy and musical quotient.

Such reservations apart, when Pandey vivifies the struggle of Mahendra Singh Dhoni (Sushant Singh Rajput), the outcome is a winning ode to the triumph of the will. Undoubtedly, the director-writer of A Wednesday and Special 26, has a legible style and signature, which are of superior quality in the hackneyed morass of multiplex entertainment today.



Image Source: foxstarhindi

Over, then, to the life and times of a Ranchi boy who since his knee-high days at the outset displayed a talent as a football goalkeeper and then more so for the willow. Next, he toiled at odd jobs including that of a railway station's ticket collector, and was frequently browbeaten by a narrow-minded father (Anupam Kher, well played) to quit dreaming and get 'real'. These early-day passages are engrossingly recreated.

You can't keep a good man down. The sub-text is you can't do it without a little help from you friends. In the event, the bond of solidarity between Dhoni and his local chums is more than palpabale. Ditto the discipline and confidence inculcated in the India's captain-to-be, by his coach (Rajesh Sharma credible as ever). Indeed, your heart is in your mouth when Dhoni has to somehow dash to the airport to catch a flight for a key selection process. Tension throbs, compelling you to cheer on, "Go for it, Dhoni bhai."

Alas sorry to say there's danger ahead. As is the case with nine out of ten films nowadays, the post-intermission section moves at a snail-mail's pace, pottering on to a punishing running time of three hours-plus. Self-indulgent and scattered, the material busies itself in portraying Dhoni as a hero sans blemishes. Besides such controversial decisions as dropping celebrated players from the team, you hardly come close to the guts of a captain who must have dealt with egos and clashes galore. Moreover the key chapter of how the captain who led the team to World Cup victory, 2011, rose above the behind-the-scenes politics and bureaucracy endemic in the nation's most beloved sport, is barely explicated.

Result: you can't help feeling that since Dhoni has co-produced the Untold Story, he must have assented to a script which goes so far and no further. By the way, quite curiously, Dhoni's real-life elder brother Narendra Singh Dhoni, who tried his hand at politics, is obfuscated from the scenario. Be that as it may, under Pandey's direction the biopic is at the very least, a great leap forward from Azhar, which made Mohammad Azharuddin a cartoon caricature straight out of a Walt Disney comic book.



Image Source: foxstarhindi

In addition, the production values strive to be as realistic as it gets, aided considerably by Sudhir Paisane's cinematography which frequently banks on natural lighting. The background score, particularly for the cricket showdowns at, is mood enhancing.

Of the acting crew, Disha Patani despite a predictably written role, projects an endearing screen presence. Above all, Sushant Singh Rajput owns the film, incarnating the cricket star by not being cussedly imitative. Rather he bats right into the skin of the character and is consistently riveting as the man whose bouts of anxiety are counter-balanced by pure ecstasy. The popular TV actor-turned-film actor quite easily tops his Kai Po Che! (2013) debut, with his career-best performance yet.

Thanks to Rajput and the film's first-half, The Untold Story hits a boundary. In a word, see.





Thumbnail Image Source: mumbaiawaaz