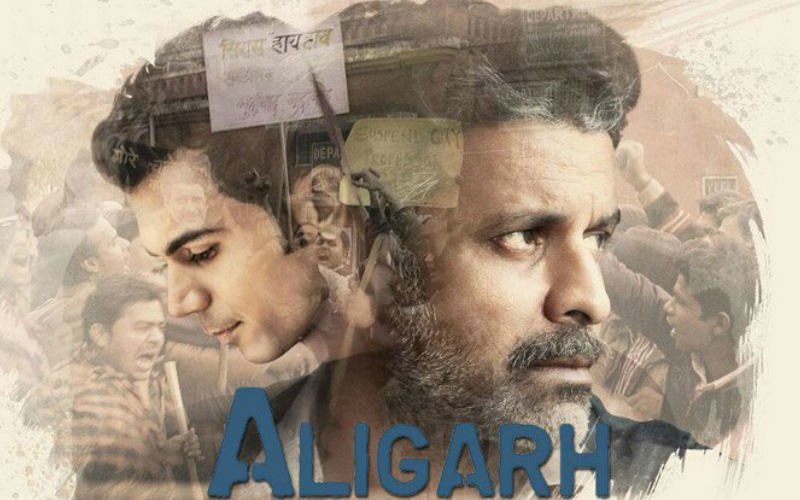 Anyone feeling strong would do well to see Aligarh. He'll come out feeling stronger,
wiser and perhaps a little less smug. He'll also see an extraordinary movie which
holds one's attention throughout. In fact, its coming has been proclaimed so often that
one hesitates to announce again the arrival of the Brave New Indian Movie.
Evidently, a filmmaker even within the crassly commercial market, can still carve out
a place to make his own movie. It is a place where a creative person can have the best
of both the worlds, melding the individuality of the undergrounder with the possibility
of getting rational financing, decent promotion and a general theatrical release from
the powers-that-be.
Director Hansal Mehta's Aligarh is about to open to the world. And here's sincerely
hoping that it clicks with the ticket-buying audience the way it has at advance
previews and film festivals. Simply because it deserves to.
Image Source: saddahaq
Some, with in-built prejudices, may stay away because they feel embarrassed about
its thematic content. To cite an example, an otherwise absolutely liberal-minded
friend had refused to watch Ang Lee's Brokeback Mountain. "I'll feel embarrassed,"
he had stated tersely. "Why?" I'd wondered. The friend snapped, "Let's change the
subject", revealing an undercurrent of squeamishness, if not hypocrisy.
Okay, I'll leave the incident at that, quit my bhaashangiri and cut to the chase. Why is
Aligarh much more than just a recreation of the witch-hunt of the real-life 60-plus
University professor, Dr Shrinivas Ramchandra Siras, who was subjected to a sting
operation? Why is it more than a recap of the professor's homosexual intimacy with
a rickshaw-puller?
Answer: because it also touches upon myriad issues, ranging from loneliness, love,
longing and solace provided by poetry and the vintage songs of Lata Mangeshkar
composed by Madan Mohan. Not to forget the silent combative spirit of its central
protagonist whose patience sustains him through the hate-campaign on the campus
and a court case, which vivifies the opponents' sham views on sexual morality.
Image Source: greekloveblog.wordpress

Above all, Aligarh is cinematically audacious, disclosing a rare synchronisation
between Hansal Mehta's team: the premise ideated by Ishani Bannerjee, the unwaveringly inventive spirit of editor, story and screenplay writer Apurva Asrani, the distinctively mood enhancing cinematography by Satya Rai Nagpaul, topped by the bankably pitch-perfect performance by Manoj Bajpayee superbly supported by Rajkummar Rao.
As, if not more authentic than Mehta's Shahid --the exposé of the murder of activist
lawyer Shahid Azmi -- clearly the director reaffirms his uncompromised flair for
sculpting narratives from true-life stories.
From the very outset, as the camera tiptoes into a replica of the housing colony
around Aligarh Muslim University, a sense of foreboding and intrusion is palpable. A
local TV channel's crew barges into the modest residential quarters of the Marathi
literature professor Dr Siras (Bajpayee). He's caught in the throes of an
embrace with his partner, the rickshaw-puller whose face is always glimpsed
fleetingly to avoid any vestige of titillation.
Image Source: vk

Almost right away, the professor is suspended by the University, where his
appointment as the chief of the Modern Indian languages has thwarted his colleagues'
career ambitions.
Next: A touching sequence shows the professor attempting to restore his home's
electricity connection till he can find alternative accommodation. Enter a New Delhi
journalist (Rao), who has been waiting for a story that'll relieve him of
robotic duties at his desk and perhaps his depressing paying guest digs. The parallel
between the professor's displacement and the journo's discontent with his downbeat
lifestyle, strikes a resonance instantly.
Through a series of gently-handled vignettes – conversations over lunch, through a
boat ride and within four walls -- the bond between the eager-beaver journalist and
the maligned professor, radiates warmth and humaneness.
Inchoately, Professor Siras understands that he is not alone. Yet, he still needs his
cheap whisky in the evening and continues to hum off-key to those Lata Mangeskhar
songs. Obviously, he realises that the surge of activist lawyers and the supportive
newspaper reporter, can't ever repair the damage done. The stigma of homosexuality
will follow him through the remainder of his life and career. Justice doesn't always
mean dignity restored, does it?
Also note Professor Siras' bemusement alloyed with befuddlement at a party hosted by
a group of gays, where a cross-dresser breaks into a kathak cabaret. Plus, when
verses from his near-forgotten book of poems, Grass Under My Feet, are quoted by
his new-founded admirers, the professor shrugs to say that the original book in Marathi has been poorly translated. T
ouché
.
About the only reservation I can advance is related to the denouement. Towards the
wrap-up, Mehta pulls back to get clinical and objective, depriving the viewer
of a no-tears-barred, emotional catharsis. However, that's my subjective response
entirely.
Nothing at all can subtract especially from Manoj Bajpayee's staggering incarnation
of Professor Siras. Hunched, dishevelled, eyes conveying flashes of retentive grief,
silences translating his coming to terms with a marriage which failed, and moments of
pleasure gained while exploring his alternate sexuality, the actor's absolutely
implosive.
Truly, for those who care for cinema of sense, sensibility and progressiveness,
Aligarh is the place to go to.
Thumbnail Image Source: twitter/
RajkummarRao