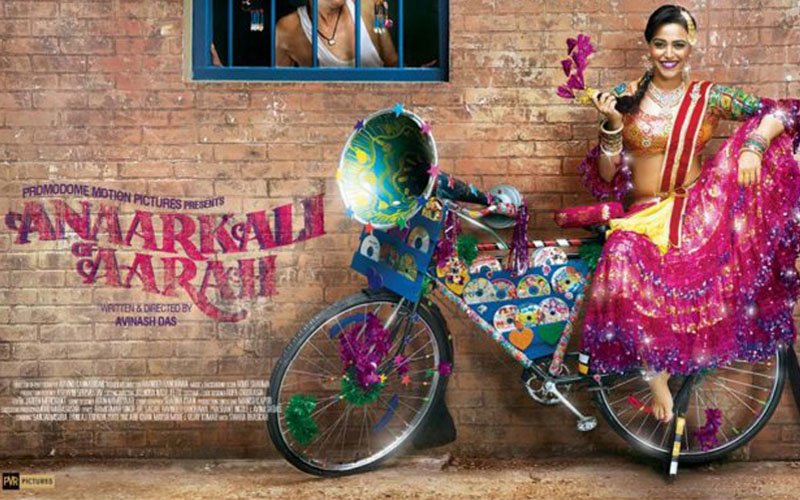 Naach gaana kiya to darna kya? Right. Only today's open-air mein naachnewaali Anarkaliya doesn't have to deal with the enraged Emperor of Mughal-e-Azam.
Instead, zoom into a lascivious police officer and a motley crew of mutton-heads who must be fried into cutlets, if our modern-day Anarkali has to survive the persisting feudal
odds.
Down with the chauvinistic creeps right here, right now. Wow.
Smartly and thoughtfully crafted by first-time writer-director Avinash Das, Anaarkali of Aarah, may not be a strongly ideological Das Kapital. Yet it exudes oodles of social concern, is constantly realistic in its approach a la the style once practised by auteur Shyam Benegal, forwards a case for women empowerment, and above all, is topped by an astonishingly ball-breaking performance by Swara Bhaskar.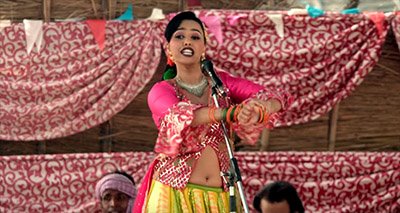 Image Source: youtube/
Promodome Motion Pictures
Her changeover from say, the emotionally implosive mother of Nil Battey Sannata to the explosive 'chhamak chhalo' here, proves to be quite the trump card of this medium-budget endeavour. Bravo Ms Bhaskar, she's done it again, and it couldn't have been a simple bake-the-cakewalk.
Her look and demeanour flash you back (unintentionally perhaps) to the 'Mohini Mohini' cat-calls commanded by Madhuri Dixit when she gyrated to Ek do teen stage show in Tezaab. As it happens, her soul sister Anarkali doesn't fight shy of warbling lyrics loaded with double entendres or breaking into zaalim jhatkas. Neither does the script make obfuscating claims that she's as nourishing as a bowl of pomegranate seeds, or an Aaj ki Pakeezah. Anarkali is what she is: self-willed, raunchy and when she says no, the horny desperadoes had better beat it, pronto.
Ah but then there has to a so-far-so-cool kahani mein twist, no? That Cop Lascivious (Sanjay Mishra) goes as manic as someone who has swallowed too many Viagaras for his own good, uttering, "Amitabh Bachchan jaisi entry maari hai and you expect me to be an Amish Puri?" or some such. Huh, wazzat? Apart from stray exaggerations and absurd utterances, the dramaturgy keeps you engaged and cheering for the young woman striving to retain her integrity and chutzpah in a man's world.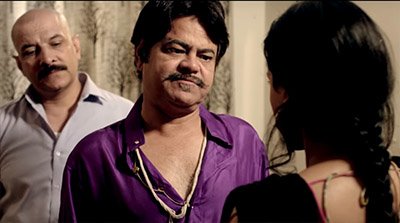 Image Source: youtube/
Promodome Motion Pictures
The hypocritical morality of the small-townies – by suggestion a district in Bihar -- does ring true and how. And if Anarkali has to flee to Delhi, the nation's capital offers fleeting respite. Life isn't as cool as sauntering around Connaught Place, far from it, since the heroine continues to buck the chauvinistic, faux macho system. The bond with her 'business partner' (Pankaj Tripathi, excellent) is sensitively detailed. Similarly, the comradeship with her song-and-dance mandli is summer warm.
Crammed with sidebar characters, who are consistently believable and far away from the Bollywood formula crowd, director Das discloses a rare gift for conveying the need for humaneness besides endorsing the spirit of a woman, who may have her flaws and frailties, but is a hero in her own right.
Gratifyingly the music score and the choreography sustain a rustic and raw feel, avoiding the contrived promo-friendly flash-cuts and hip atmosphere of the Bollywood glossies nowadays. The cinematography does seem to be unnecessarily overlit occcasionally, coming in the way of a more moody, shaded texture. Still, these are minor flaws in a feel-gutsy film, notches above entertainment of the hackneyed kind.
At the risk of reiteration, it has to be emphasised that Anaarkali of Aarah belongs to Swara Bhaskar who gives her heart and soul to a part of spleen and substance. And she is wonderfully supported not only by Sanjay Mishra and Pankaj Tripathi but also by Mayur More and Ikhlak Khan.
So what are you waiting for? Those in search of decidedly different and convention-altering cinema, here's your ticket to a cause-centric-cum-fun ride.
Thumbnail Image Source: instagram/reallyswara