You may wonder why you should venture out for a kissing mela (yes, that's what Befikre is, it begins and ends with a passionate kiss) but the fact remains that there's something in this film which doesn't make you dislike it howsoever sanskari you might be.
Ranveer Singh can act, and you cannot have a different opinion about that. Vaani Kapoor makes you swallow your preconceived opinion that she is not an actress.
That she needs to improve in her journey ahead is a given, but Ranveer seems to have mastered giving every expression required for an actor in this world.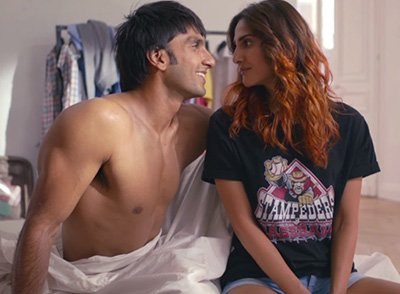 Watch him in the scene where he tells Vaani that she hasn't yet taken him out from her system. Watch him in the scene where he convinces Vaani to marry the 'sorted' investment banker she's dating after they broke up. Importantly, watch his dance moves- if he had been around in the days of Rishi Kapoor and Govinda, he would have surely given them a run for their money.
The dance of violence which transforms into a dance of passion in the climax is one of the highlights of the film.
So that's why you may like it, and if Aditya Chopra had trimmed his fourth film you would have liked it more.
There are several moments in the film where the film peaks, but those peaks become valleys in the next scene itself. Going back and forth on the story like Gulzar and Mani Ratnam was not required in this love story.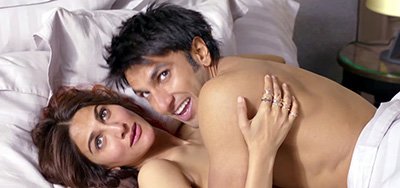 It may seem that it has become a fashion since Jab We Met to portray your lead pair or at least one of them as someone who is terribly confused about his/her love feelings, but then I guess you have to give it (or should I say, give in?) to Adi and his likes who are putting on celluloid just what they see around them in real life. Isn't it also common that like Ranveer and Vaani, most boys and girls of today want to live-in and marriage is far from their minds- and then they fight like cats and dogs only to hook up with the next available person at the first available opportunity?
The church scene in the end is a bit hotch-potch and Aditya could have chosen a better way to drive home the point that his leads cannot live without each other, but again the fun-loving characters that they play might have confused Aditya if he should take the sentimental route or not.
There are many throwbacks on Yash Raj's flagship Dilwale Dulhania Le Jayenge- Vaani being explained by her mom in Farida Jalal-Kajol style and an opera show, to name just two.
So go and see Ranveer's full bare butt, and I guess that too portrays the times we are living in. Nothing is a big deal if you actually interact with the millennials. And think of it, Censor Board seems to have a new Chairman. India is changing.

Image Source: youtube/yrf