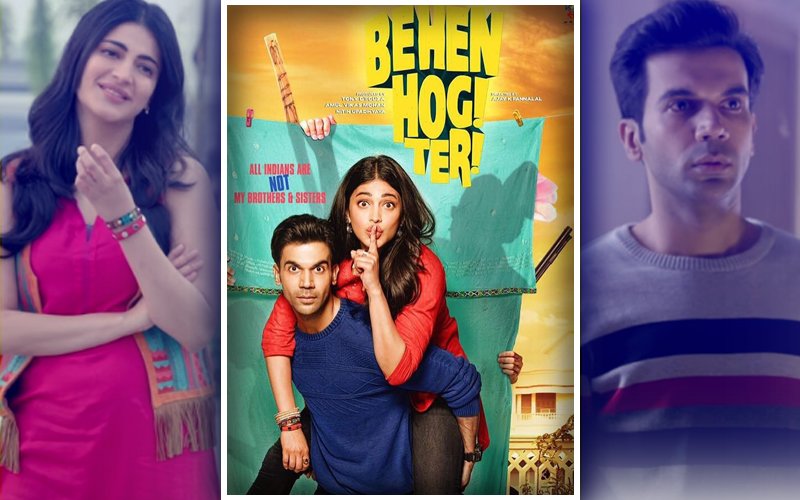 He's a wimp who has as much personality as a boiled shrimp. And she pouts so much that you want to give her some tips, one of them being please go easy with the lips. Hey be that is it may, the wimp and the lip-twirler are a Lucknow mohalla's Mr Gattu and Ms Binny, who in fact, seem quite unmade for each other. Oh brother!
Working on some archaic notion that the path of a next-door-neighbour's 'knicker ke zamaane ki mohabbat' is fraught with peril (quite trivial types), writer Vinit Vyas and first-time director Ajay K Pannalal rustle up Behen Hogi Teri, bristling with heaps of hera-pheri which get the spectator's knickers in a bunch actually.
A far cry away from the aamne-saamne romances of yore – take Tere Ghar Ke Saamne or Padosi which had super-ticklish plots – this Behenji business strives to inform you that if there's a girl in the 'saamnewali khidki', ipso facto she can't be anyone else in your life but your surrogate sibling. No wonder, boys generally make themselves scarce on Raksha bandhan day. Ever seen or heard of that, as a general rule, anywhere?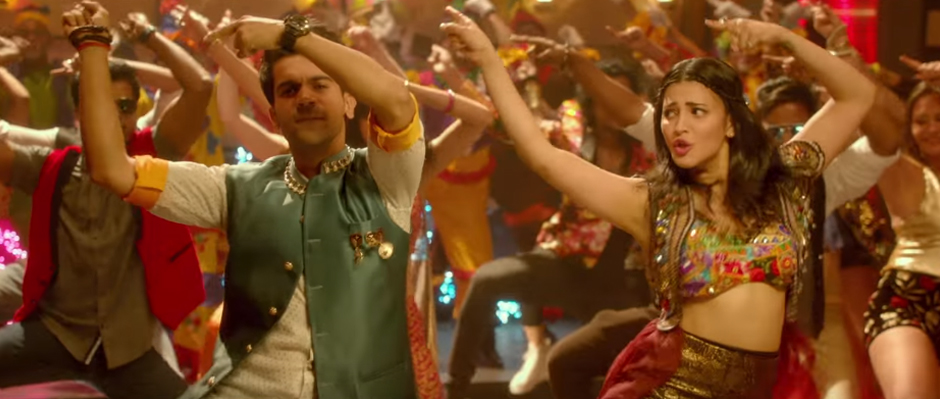 Behen Hogi Teri Movie Still
Indeed, you chew your nails to the cuticles with worry. For heaven's sake, why can't the aforecited Gattu (
Rajkummar Rao
) speak his heart and mind out, loud and clear to the assortment of elders on the scene? Maybe he wants to do a Meena Kumari from Main Chup Rahungi, till his ardour for Binny (
Shruti Haasan
) reaches myriad flash-points, calculated to end yours as well as his agony.
At most, you can watch this marry-go-round with glazed, half-lidded eyes. So since the milieu is of the middle-class sort, Gattu bhai mostly wears checked shirts and Tees, and phut-phuts around on a mobike. As for Binny, she's more flamboyantly dolled up, brims over with limitless energy, hands her padosi a sharbat and yaaay, kuch kuch hota hai. Relief. After all, this signifies the fact that they have acknowledged way more than their Platonic feelings.
Naturally there are miles to go before the twosome wed instead of going red in the faces. Apna Gattu's pitaji (Darshan Jariwala) has this fetish about being the major domo of the mohalla. As for apni Binny's elders, they want to see her hitched to an NRI (played by a Cool Hair-Cut). But but but…suspicions are on that Binny is involved in an affair with Gattu's bestie (played by an overwrought Herry Tangri).Life's so complicated isn't it? Especially in the post-intermission section which moves at the tempo of a tortoise. Slow and unsteady.
Moreover, since the outlook is a cross between retro- and retrograde, out pop a couple of devilish dons (Ranjeet, Gulshan Grover, oh dear me). What an ensemble, even from the Bollywoodised assembly-line which has, otherwise, been subtracting the cliches and stereotypes lately.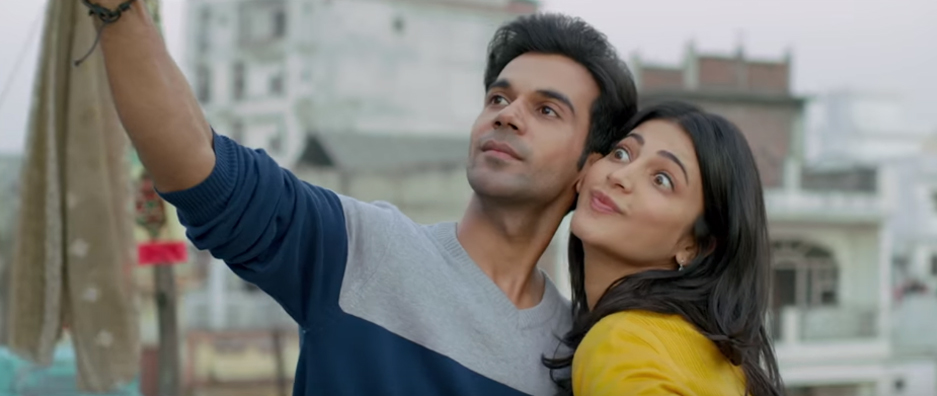 Rajkummar Rao And Shruti Haasan In Behen Hogi Teri


Admittedly, the first-half is relatively breezy and amusing, with the wimpy hero attempting to handle outmoded traditions. Plus, there's this black-humour vignette calling upon mouth-to-mouth resuscitation of a dying grandma. Funny in a morbid way.
Clearly, the story material is s..t..r..e..t..c..h..e..d to a giddy limit, wandering off into the lanes of sub-plots. Frankly, do you care a fig whether Ms Binny elects for a honeymoon, as a snatch of dialogue puts it, at the Eiffel Tower, a tabela (duh) or the house across the street?
Efficiently photographed (since it's Lucknow, half the visual battle is won), far too indulgently edited and backed with the familiar ballads of Arijit Singh, the outcome is at best, as average as they come.
No free coupons for popcorn or colas, for guessing that despite the shallow screenplay and direction, Rajkummar Rao is as accomplished as ever. Usually seen in unconventional films, he asserts that he has what it takes to fit into the Bollywood mould (okay, so he was in Queen but totally sidetracked). The actor's worth a look as the callow, befuddled loverboy who bemoans why only heroes named Rahul and Raj (read Shah Rukh Khan) get the girl for an all's-hunky-dory ending. Rajkummar Rao is cool. The rest of Behen Hogi Teri isn't.
See, if at all, for Mr Rao, the fringe benefit.
Image Source: instagram/bhtthefilm & youtube/oddballmotionpictures